South Cayuga Street is thriving. There are a few businesses, like Stiehl's Body Modification, the Christian Science Reading Room and the chic clothing store Avanti, that add flair to the street, but surprisingly, no restaurants. The only visible eatery on South Cayuga Street is an abandoned storefront café, and it looks nowhere near ready to serve hungry customers.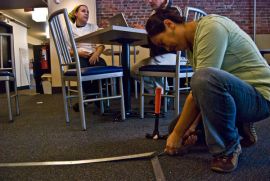 From two large windows, the bare hardwood floors, simple metal chairs and raw brick walls make the restaurant look completely deserted. It is a far cry from what the Ithaca favorite Lost Dog Café once was.
Former Lost Dog owner John Hughes said despite the café's popularity, the profits weren't enough to keep it alive. The restaurant unexpectedly closed in July because of debt the owners were in.
"It was great," Hughes said. "But converting an old clothing store to a restaurant was a huge task and more than we anticipated. We opened up in a big financial hole that we could never really climb out of."
Rather than leaving the space abandoned, Scott and Teresa Miller, owners of Madeline's — located on the corner of East State Street and South Aurora Street on The Commons — decided to start a new restaurant in the empty space. The Wildfire Grill had its debut Saturday, featuring what Scott Miller calls "sophisticated comfort food" and a performance by the Katherine Aelias Band. Miller said his goal was to create a haven for all of Ithaca's "foodies" to enjoy simple meals together.
"For years we were saying 'I'm not in the mood for Asian food, and I'm not in the mood for a burger,'" Miller said. "And, 'We're going out with our friend [who] is a vegan, but we're going out with our friend, that eats fish. It's too bad that there isn't a place where our veggie friend and our carnivore friend and our fish friend could all go.'"
Miller knew about the restaurant space opening because he was Lost Dog Café's lawyer. Hughes said he was happy to see the Millers buy the restaurant and give it the attention it deserved.
"I'm happy to see new money going to it because it definitely needed more money than we could give to it," Hughes said.
A few doors down from Lost Dog Café's former home, Hughes and four other partners will be opening the Bandwagon Microbrewery — a microbrewery with local beer and entertainment. He said he hopes the pub keeps some of the same atmosphere that the Lost Dog had.
"We're going to be playing the same music that we played in the Lost Dog," he said. "Hopefully we have good, home-brewed beer, good food and lots of fun people."
This time around, Hughes said he thinks building a new restaurant in an old restaurant's space will prevent him from falling into debt.
Hughes said both he and Miller were lucky, opening their restaurants in the current economic climate. According to Chamber of Commerce President Jean McPheeters, opening restaurants in the area is still difficult because of the lending industry.
"There's a high failure rate for restaurants," she said. "The big difference here is that there aren't many chains around here. There's a thriving independent restaurant community here."
Simeon's has also already expanded its restaurant by taking over the vacant Gino's Pizzeria space. Owner Dean Zevros said the majority of his business comes from students bringing their parents for a nice dinner during Parents' Weekend in October. He said making a profit from the restaurant business hasn't always been so easy.
"New York state does not make it easy for individuals and small businesses to really grow," Zevros said. "There's a small margin for profit and a lot of taxes."
Sammy Chafee, the owner of Sammy's Pizzeria on The Commons, said he is also able to expand his business. Sammy's Italian Buffet will be where King Buffet used to be located in Top's Plaza. Chafee said most of his profit also comes from students. He said the colleges have insulated his business from the harsh economic climate.
"Because of both schools, we aren't as affected by the economy," Chafee said. "We are doing better than we were before."
Ithaca resident Tanya Reynolds said she was excited to hear about the restaurant renovations. She said the diversity of food on The Commons continues to grow, which gives hungry customers great options to choose from.
"Whatever you're in the mood for, you can find here," Reynolds said. "You can have Thai, you can have a bar, you can have Chinese, you can have a sub or a salad. I like the diversity. It encourages people to go out."