Leaving behind the comforts of their teen years and stepping into new responsibility, today's 20-somethings are becoming increasingly nostalgic for a time with less stress and more slime.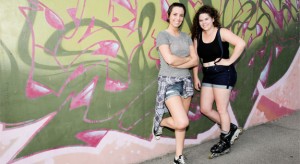 While most of the college-age population only dream about returning to simpler times, juniors Rachel Rothenberg and Jaime Tritschler are turning their love of all things '90s into a reality.
Rothenberg and Tritschler are teaming up to produce "'97," a television series set to air on ICTV this fall. The show follows Charlie Wheeler, who finds an old Game Boy that sends him back in time to 1997, where he must find his way home — without cell phone service or Google Maps. But along the way he finds the 21st century might not be the right fit for him.
The idea for "'97" came from Rothenberg and Tritschler's tendency to ease the stress of late-night study sessions by listening to bands like Backstreet Boys and 'N Sync. Tritschler said she saw the perfect opportunity to combine her love of film with her passion for her favorite era.
"We haven't really let go of our childhoods yet, and we figured the best thing to do is make a TV show," Tritschler said. "You film mostly what you know."
ICTV's '90s flashback will come just weeks after Nickelodeon started to air its own ode to the decade.  "The '90s Are All That," a programming block dedicated to re-runs of their top shows from the decade, aims to appeal to the love of the shows shared by dedicated fans.
Keith Dawkins, vice president and general manager of TeenNick, said the station decided to run the series because of demand. He said Nick is excited by the series' popularity.
"The day that it premiered people said they cried when they watched the show, and it took them back to the time when they grew up," he said.
Junior Elijah Kagan agreed to write for "'97" because he knew the show would connect to college students who want to look back on the decade they love, much like Nick's new block of old shows.
"A lot of what went into this show was the nostalgia growing up in a simpler time with no electronics to dominate our lives," he said.
Ken Kimmelman, Emmy-award-winning director of "Doug," one of Nickelodeon's original '90s cartoons, said he thinks people are still drawn to '90s programming because it reminds them of a less hectic time in their lives.
"[Doug] could pick up a pencil and he kept a diary," he said. "He didn't use a computer. I guess there's a little bit of a Renaissance kind of feeling Doug had. The '90s were quite different from after we turned the century."
"Doug" is one of the shows currently being rebroadcast by TeenNick. The new series is partly in response to a pitch made by young Nick interns and staff members who grew up watching the channel.
Teal Marchande, who played the mom on the '90s Nick sitcom "Kenan and Kel", said people use the ideas in '90s television as a way to recognize the challenges of daily life.
"When people watch a show like 'Kenan and Kel,' it's so ridiculous and all of us sometimes want to be ridiculous in our lives," she said. "We understand we have awkward moments because there's so much of that in the show."
Even with the modern day nostalgia for the '90s, Rothenberg and Tritschler are watching shows like "Sabrina the Teenage Witch" and "Boy Meets World" to get clothing ideas for "'97" and reminiscing about the decade's culture and fashion. Tritschler said she's encouraged by the reaction she gets from people when she talks about the show.
"We get completely off topic and stop talking about the TV show and start talking about our childhood instead," she said. "It brings back a lot for people."
Kagan said even with the stress of adult responsibilities, his generation takes the time to look back and reflect on the decade they just left behind.
"People remember those times," he said. "They remember growing up in them, and in some way, part of me misses the '90s."
Follow the show on Twitter @97ictv and look for the premiere of "'97" this December on ICTV.