For Ramsey Brous '90, the sweet smell of success is the aroma of fresh bread permeating the walls of the Ithaca Bakery.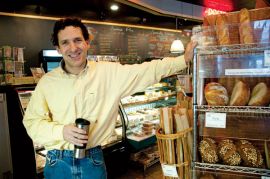 "We have a mission that is more than just selling great food," he said. "We really have a goal of pleasing all the customers in terms of service, atmosphere and to have an overall enjoyable experience."
This year marks the 100th anniversary since the bakery first opened its 400 N. Meadow St. doors. While the store has undergone three changes in management, store renovations and dozens of new menu items over the last century, co-owner Ramsey said these changes have been the recipe for success.
"It's been our ongoing commitment to look at our business and examine what ways we can improve it," he said. "We're never content to stay put with our current situation."
Ramsey's strategy has already worked well. Since he and his brother, co-owner Gregar Brous '81, took over the business in 1989, dozens of new soups, salads, entrees, breads and pastries — like their chocolate cherry bread and reverse chocolate chip cookies — have been added to the colorful chalkboard menus that cover the bakery's walls. Ramsey said they've also incorporated more sustainable ingredients into their products while steering clear of the latest trends.
"We've gotten much deeper into using organic and locally produced goods because of a changing market," he said. "We haven't done it because it's a fad. We've been very careful not to be trendy for the sake of being trendy. Those things tend to come and go. We're in it for the long haul, and we're not looking to cash in on the newest fad."
The Brous' brothers got their first taste of the bagel business after taking over Collegetown Bagels in 1981, during Gregar's senior year of college.
Ramsey said Collegetown Bagels baked all of its bagels at a location separate from the shop. In 1989, during Ramsey's senior year of college, the brothers bought Ithaca Bakery's Meadow Street location, which offered both a place to bake on site and a spot to sell their freshly baked products.
Ramsey said purchasing the business during his final months of college was not so much overwhelming as it was perfect timing.
"The store was being renovated while I was in school," he said. "It didn't re-open in a big way until October 1990, after I had graduated."
Bruno Mazza watched as the original bakery space developed. His father started the bakery in 1910 after moving to Ithaca from Italy at only 18 years old. Mazza said making their Italian Vienna-shaped bread was much more difficult back then.
"It was all by hand," he said. "We didn't have coolers, warmers or temperature controls. When the weather got hot and the dough started to work, you couldn't stop."
Mazza said he typically delivered six to 10 loaves of the freshly baked bread a day, each selling for only 8 cents, to mom-and-pop stores by horse and carriage. He said the bread was delicious but only lasted a day — literally.
"We never put preservatives in our dough to keep it fresh," he said. "The first day, the bread was wonderful. The second day, you could pound nails with it."
Ramsey said the shop still bakes that same loaf today.
"The Italian Split has been a mainstay of the bakery from the very beginning," he said. "There were still customers coming here when we took over, and that's what they got. It's great to be able to serve them in addition to all of the people that are now patronizing."
Ramsey said the bakery also continues to produce superior products — something the Mazza family was originally known for.
"It has always been appreciated for being a high-quality, locally produced item," he said. "They were very well known for their Italian bread and the quality and consistency of their products."
Carla Golden, professor of psychology at Ithaca College, said the quick and friendly service at the Ithaca Bakery is just one reason she's continued to return for the last 25 years.
"The staff is fantastic," she said. "Even when the bakery is crowded, they keep things moving and are always friendly and upbeat."
Golden said the bakery is a popular spot for those looking to grab a great bite to eat.
"There are a lot of people who hang out there," she said. "There aren't too many places in Ithaca like it."
While it's only the beginning of their yearlong celebration, the Meadow Street location is already adorned with festive banners. Ramsey said they've also begun selling commemorative mugs.
"We had a local potter craft a 100th anniversary commemorative mug from local clay," he said. "With the purchase of the mug, you get 10 percent off your coffee beans for the year."
The bakery's Triphammer Mall location has its own reason to celebrate this year after announcing plans to move into Hope's Way café, also located in the strip, by March 1.
Ramsey said the spot provides new retail and catering opportunities without the need to renovate their current mall location.
"[Hope's Way] had been renovated a few years ago," he said. "It was a great way for us to really improve the space we were in at the Triphammer Mall without needing to renovate a store we were operating in."
Ramsey said it's amazing to be part of an institution that's history with the Ithaca community spans a century — something very few other businesses can say.
"The Ithaca Bakery has real ties to the community," he said. "It's not the sort of thing that we would ever pick up and take somewhere else. It's really part of the fabric of the community."