Sophomore Jenna Jablonski had a busy day ahead of her Sept. 2. Stopping at the Campus Center dining hall for lunch to fuel the rest of her day, she loaded a plate full of calcium and protein-rich romaine lettuce, dressing and beans. But Jablonski always skips the grill — her lunches are meat-free.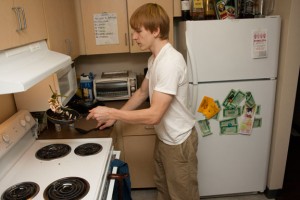 Once considered an alternative lifestyle, vegetarianism is now accessible to all people, especially students. Though vegetarianism has rapidly grown in popularity for those seeking healthier lifestyles, it can sometimes be a challenge for students to get the necessary nutrients to fuel their busy lives with a meatless diet.
Cathy Saloff-Coste, the college's on-campus dietician, said planning is a must for those who are eating a vegetarian diet.
"As you become more restrictive [in your diet] and exclude more categories of foods, then nutritional issues come up," she said.
Sophomore Rachel Thompson found it difficult to get necessary nutrients without meat. This summer, she chose to adapt her vegetarian diet to a flexitarian diet — meaning she is mostly vegetarian but eats meat and poultry if she wants — after gaining 50 to 60 pounds.
She said her health problems stemmed from poor diet planning, like eating more refined carbohydrates and cheese. Changing her diet has allowed her to satisfy her appetite without resorting to empty calories, she said.
"Being a vegetarian was really unhealthy for me because I made bad choices to eat fatty things to fill me up," Thompson said.
Sophomore Emily Nowels became a vegetarian in third grade and has been eating a vegetarian diet since. But she realized in high school she needed more protein and calcium. Nowels added high-protein options like hummus, nuts, lentils and eggs to her diet, while loading up on calcium-rich milk and dairy products.
"Over time, my body has adjusted to being a vegetarian," she said. "In high school, I was always more tired than other people, so I became more aware of what I needed and tried to find more protein in vegetable sources."
Saloffe-Coste said a vegetarian lifestyle, as Nowels discovered, can be healthful, but it requires the right daily decisions.
"The key to a healthy vegetarian and vegan eating pattern is assuring a varied, balanced, and adequate intake of vegetarian foods," Saloff-Coste said. "Understanding and addressing specific nutritional concerns is part of being a responsible vegetarian."
According to the American Dietetic Association, some of the most common deficiencies for vegetarians are protein, iron,  zinc and vitamin B12.  Many of these nutrients can, however, be found in other foods. Some foods like eggs, legumes, whole grains and nuts are a good source of all of these nutrients.
Otherwise, students can add nuts, beans, seeds and other dairy products to get proper protein. Iron — found at its richest in red meat — can be replaced with dried beans and fruit and spinach, and zinc, necessary for a healthy immune system, is most easily found in peanuts, peanut butter and grains. Vitamin B12 only comes naturally from animal products like eggs, or else a student must settle for taking a supplement, according to the American Dietetic Association.
Jablonski, who became vegetarian for ethical reasons, said it was the right choice for her. Though Jablonski does not consume milk or cheese, she loads up on eggs, legumes, whole grains and soy products.
Jablonski said being a vegetarian has many advantages.
"A vegetarian lifestyle has more than just health benefits, … it is also the best diet for the environment and for overall wellness," she said.
Luckily for students, Ithaca offers many alternatives to make up for a lack of meat. Nat Barton, an employee at the GreenStar Cooperative Market, a local natural, organic and fair-trade grocery store, said he has been a vegetarian for 14 years. Barton said stores like GreenStar offer a variety of ready-to-eat foods that are mostly vegetarian and are nutrient-rich, such as tofu, eggs and beans.
The store also carries supplements, but Barton said he thinks supplements are non-essential if a diet is well-balanced.
"We're all capable of eating a diet that gives us all we need, we're just not usually that good about being on top of it," Barton said.
Sophomore Philip Davidowsky, who became a vegetarian three years ago to challenge his willpower for a month, said he has never had a problem getting proper nutrients.
"You can get enough protein to live a healthy lifestyle even on a vegan diet," Davidowsky said. "Being a vegetarian has never inhibited me from living my life."
Davidowsky eats dark, leafy greens, drinks soy milk and takes a multivitamin every other day for nutrients. He said he felt healthier after the month was over, so he kept his vegetarian diet. Davidowsky said a vegetarian diet needs careful planning but is ultimately beneficial.
"If you have all the resources and are in generally good health, then being a vegetarian can be a good idea," Davidowsky said.
Ryan Huling, the college campaign coordinator for People for the Ethical Treatment of Animals, has been a vegan for six years. He said this lifestyle makes him feel energized and healthier. He said being a vegetarian is more about eating a balance of different foods.
"It's not so much about [particular] nutrients as it is about diversity of foods," he said. "A good range of fruits, veggies and grains is key."
Huling said making the transition to a vegetarian, or even vegan lifestyle, can be made easier by starting small, like cutting meat for a few days a week, then gradually committing to the lifestyle. He said he sees vegetarianism as an adventure.
"It's a great way to try new foods — new products, new meals, new cultures," he said. "I encourage people to go at their own pace."