A scene in the 2006 film "Hollywoodland" shows George Reeves, played by Ben Affleck, in a diner with his colleagues. Suddenly, he's distracted by children yelling and rapping on the window. Reeves stands and strikes a pose, evoking an eruption of cheers from the excited kids.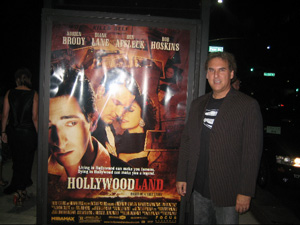 Screenwriter Paul Bernbaum '79, a longtime Superman fan, essentially saw himself as one of the kids and wrote himself into the scene.
His wife, Gina Bernbaum, said that when he was a child, he couldn't wait to run home and watch "The Adventures of Superman." She also said that his fascination carried through into adulthood.
"He once owned a costume from the original series," she said. "He bought it at an auction. He has always wanted to tell George Reeves' story, and it's fitting that it would be his first feature film."
"Hollywoodland," which stars Affleck and Adrien Brody, explores the circumstances surrounding the apparent suicide of Reeves, the original actor to play Superman on television in the 1950s. Bernbaum has always had a knack for writing, though it was not his original career focus.
"I actually went to Ithaca [College] to be a sportscaster," Bernbaum said. "I was on radio my first couple of years and did a sports show until I realized that I didn't want to be a sportscaster. I only wanted to do play-by-play for the Knicks."
He switched gears, declaring a writing minor, and became more involved in television production.
"All my spare time was spent down in the communications building," he said. "I used to have a game show on TV hosted by my friend David Lee Miller, who has been a Fox News reporter for years."
But Miller isn't the only television figure Bernbaum met at the college. At freshman orientation, in addition to his future wife (then Gina Horne '79), he met Barbara Gaines, who is the executive producer of "The Late Show with David Letterman."
By senior year, Bernbaum and Gaines dreamed of starting a production company called "Bergan," an abbreviation of their last names.
"Turns out, we got half of our dream," Gaines said. "He became a writer [and] I became a producer — just not together."
As a team, they produced and hosted an awards show their junior and senior years, and that final year, the three orientation friends lived together in the Garden Apartments.
The Bernbaums married in 1981, two years after graduation. That same year, he earned his first paycheck in television, selling a story to the show "CHiPs."
"I got my first agent in 1983 and my first TV staff job in 1984," Bernbaum said. "It basically took me five years to 'make it.' In the meantime, I made rent money working at temp agencies, doing very strange, very frightening jobs."
Bernbaum and his family (his wife, three sons and two daughters) lived in Los Angeles for years, but have since moved to Paradise Valley, Ariz. He improvises when business calls for traveling. If he's needed at meetings in L.A., he books as many as he can in one trip. And if he has to take extended trips to film sets or for research, he brings the entire family along with him.
"The best part about being a writer is that I get to work at home and spend so much time with [my family]," he said. "I'm probably the only writer in Hollywood that has no desire to direct."
Even during his years of writing and producing for television, Bernbaum always knew that he wanted to write feature films. It took a few years for "Hollywoodland" to come to fruition, but he's "very proud of how the movie turned out."
The critical success of the film opened many doors for Bernbaum. He said he is so busy that he often has to turn down offers, a position he does not take for granted.
Some of the films that he is currently involved with include "Counter-Clockwise," with Jennifer Aniston; "The Day I Turned Uncool," with Adam Sandler; and "The Warden," an HBO film from the producers of "Little Miss Sunshine."
Still, "Hollywoodland" will always be remembered as Bernbaum's first feature film. He said it was one of the best-reviewed films of the year, a welcome reward after the arduous four-year process the project went through to see completion.
"It's a mini-miracle when anything gets made," he said.