When one café door closes, a pub door opens. Whether it's preserving and expanding vegetarian cuisine in Collegetown or starting a brew pub from scratch on The Commons, Ithaca restaurant owners don't see the troubling economy as a problem, but rather as an opportunity to explore their dreams.
Jean McPheeters, president of the Tompkins County Chamber of Commerce, said though it seems like many local businesses are closing, many businesses — especially restaurants — are opening.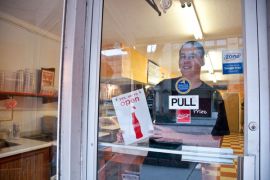 "We've seen a tremendous number of people who are considering starting businesses right now," she said. "This is something that often happens in a down economy, so this is not uncommon."
Nick Antczak and the four co-owners of the Bandwagon Brew Pub on North Cayuga Street are trying something new. After the Lost Dog Café closed in July, the four former employees and former co-owner, John Hughes, opened the new eatery.
Antczak said the team originally wanted to start a brewery production company but decided a brew pub would be more financially feasible in the economy.
"Especially in this town, there's always going to be a demand for specialty restaurants," he said. "We felt like we had something good to offer because there is no other brew pub in proper Ithaca."
According to www.VisitIthaca.com, Ithaca has more restaurants per capita than New York City, ranging from Irish pubs to gourmet tapas bars. With such a large number of restaurants in the area, it can be hard for business owners to maintain sales.
McPheeters said this isn't always a challenge, but instead a chance to do something different.
"If you've been laid off from a job or it's hard to find a job, a lot of people will choose to think about doing something they've always wanted to do, which is start a business," she said.
Ithaca's repertoire of distinct and exotic restaurants gives the city an eatery to satisfy every foodie's craving. ABC Café was a popular vegetarian restaurant in Collegetown.
After the café closed in June, Rob Delphous, one of three co-owners of the new Giving Tree Café, said he and his partners wanted to salvage the café's distinct style and take over its location on Stewart Avenue. He said the former employees didn't want to lose the authenticity of ABC's vegetarian menu.
"[The ABC Café] was an institution, and we were looking forward to moving on with that idea of being an institution for the community," Delphous said.
Sean Lunny, one of the other co-owners, said the Giving Tree Café will expand because of its predecessor's importance in the community.
"We had 1,300 people in our Facebook group before we even opened," he said. "People were dying to see this place open."
Senior Jessica Weston said she has gone to the ABC Café since her freshman year. She said she hoped something would reopen to continue ABC Café's tradition of tasty vegetarian and vegan cuisine.
"Having a restaurant like the Giving Tree is very important for this community," she said.
While the Giving Tree Café is preserving its cuisine, Antczak said Bandwagon is trying something new.
"We don't want people to think [Bandwagon] is the Lost Dog Café Jr.," he said. "We're trying to keep it fresh so people will keep coming back."
The Bandwagon team isn't the only experienced set of restaurant owners opting to try again. The Kadar family, who previously owned Oliver's in Collegetown and Budapest Café on The Commons, has now taken over Queen of Tarts on Maple Avenue and turned it into the Coal House Café — a Hungarian-inspired bistro.
Elizabeth Boze, a barista at the new café, said she was part of the package when the Kadar family bought Queen of Tarts. The family kept all of the former employees of Queen of Tarts.
"They felt that the spot was too good to pass up," Boze said. "It's unique, and it's the only place like it up here [in Collegetown]."
Helen Kiluk found a spot she wanted to spice up in the community, as well. She said she needed a change after closing her clothing store, HMK Clothing, in Owego last year. Kiluk renovated the Ithaca Diner on West State Street and turned it into her own Prize Diner by adding all new equipment and meals to the menu.
"I worked in food service for about 25 years, and that's really what I knew," she said.
Kiluk said she knows the Ithaca Diner was a staple in the community with its breakfast specials and cozy environment. She wants to continue that legacy through her customer service and homemade soup and potatoes.
"I don't want to make a million dollars from this," she said. "I just want to continue to provide Ithaca with some great cooking and something comfortable for students and the local clientele."
Though the economy is still struggling, Antczak said he isn't too worried. To him and the rest of the team, opening Bandwagon is about more than just making money.
"There's always going to be people willing to throw their hats into the ring," he said. "But if you don't do it, then you have no idea if you're going to succeed or you're going to fail. You can't live being afraid of failing."