With one exhibit pairing a picture of a monkey with a wire cup and another exhibit merging Chinese culture with other cultures across the world, the Handwerker Gallery at Ithaca College is opening its season with many of the possibilities in printmaking.
The Handwerker Gallery opened this season with two print exhibitions — one by Susan Weisend, professor and chair of the art department, that explores humanity's removal from nature, and the other a collection by 15 artists on their reactions to a trip to China.
Weisend's collection, "Something is Amiss in Eden," includes prints, drawings and artist books that are centered on endangered species of plants and animals.
The project began last fall during Weisend's sabbatical. Though she has been expanding on nature as a theme in her art for the past 25 years, this specific idea was a new concept. She said her inspiration came as she was thinking about people's current relation to their natural surroundings.
"I started just thinking about how we are more and more removed from nature," Weisend said. "Nature in a box is kind of our relationship at this point — where we go to zoos and botanical gardens to observe nature — but it's all self-contained and we're very removed from our environment."
In the collection, Weisend mixes different endangered species with symbols for humanity. In the piece "Paeonia Trumps Uccello," a vibrant purple-pedaled flower overlaps a drawing of a tan outlined wire chalice. Weisend said the chalice, originally made by Paolo Uccello in 1450, became significant in the collection.
"It's kind of the symbol for human beings, us as rational creatures, and then I juxtapose it with these other figures from nature," she said.
The title of her exhibition comes from the recognition of the imbalance between man and nature. As for the species chosen for each piece, she said some were for aesthetic reasons while others were chosen for their background stories.
As she worked with the elements, she said they became more than images on the canvas.
"I started thinking of them as characters in my artwork, almost as fictional characters that I was moving around and looking at it in sort of a nostalgic way," she said.
The largest and most prominent work in the collection is called "Absence Makes the Heart Grow Fonder," which Weisend did in collaboration with her daughter, artist Anna Pickens. Composed of 25 embossments, they are each framed separately but create one grid and one piece. Each image is stark white, with impressions of different flowers pressed into the paper.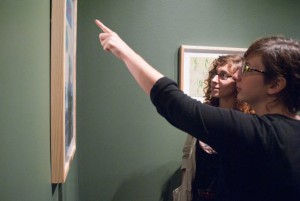 Carla Stetson, assistant professor of art, said pieces like these are what make Weisend's work so powerful.
"There is something really simple about [the piece], and you look at it closely and it's really complex," Stetson said. "There's so much to see from close-up. You just get drawn into them."
The second collection, "The Zou Ba Portfolio: Printmakers' Journey in China," was started in 2007 when curator Minna Resnick, a lecturer of art at the college, planned a trip with former colleague Jiansheng "Jackson" Li, president of the Jingdezhen Sanbao Ceramic Art Institute in China, for 15 print artists to travel to China for 28 days.
While on the trip, the group presented lectures at three art academies, participated in an exhibition of their work and conducted a day-long symposium at the institute. They also attended workshops for papermaking, ceramics and woodworking.
By the end, the group planned to use the trip as a theme for an exchange project, in which each artist created 15 prints to give to each person on the trip as well as extras to be shown at exhibitions or in museums.
Resnick titled the collection "Zou Ba," meaning "Let's Go," the phrase the artists heard daily from Wenying "Wendy" Li, program director at the Jingdezhen Sanbao Ceramic Art Institute.
"Every morning we would get up and she would go, 'Zou ba' — you know, 'Let's go' — let's discover and explore and work," she said.
Each piece in the collection represents a combination of people's cultures, influences and techniques mixed with the experiences they had on the trip.
Resnick said her piece "Mixed Company" combines influences from the trip with her past works.
The print shows overlapping images of Chinese women dressed in classical garb. Pasted over in a repeating pattern are entirely red images of an American pin-up woman alternating with a white silhouette of a baby sitting. Resnick said exchange projects like this one provide people with a chance to see different interpretations on a single theme.
"Anytime you have a group of people together, they might do similar things, but they process experiences much differently," Resnick said. "It's quite exciting to see such different impressions of similar experiences."
Weisend, who also went on the trip, said having so many artists made the trip valuable.
"It was really enjoyable to be with other professionals, talk about our work, just share ideas," she said. "Then the other part was being in this new place and taking in all this new information that was just a daily occurrence.
Junior Benji Sayed, who went to the exhibit's opening last Thursday said he found the collection more interesting because so many artists' works are represented.
"It comes down to what they took, in terms of Chinese lithography or printmaking, and how they used their own influences and their own techniques," Sayed said. "It's all various fusions of culture and Chinese culture."
The print by Slovakian artist Lydia Jergusova-Vydarena called "My Trip" is one work that combines cultures. At the top of the piece, the words "I'm fine and you? How are you?" show across purple, yellow, red and orange overlapping images of men walking. Below is an alleyway looking out onto a wall covered in Chinese symbols. Written over the image are the words, "To Be in Harmony with Environment."
Senior Megan Crosen said she liked seeing so many perspectives on one theme. As an art major currently taking printmaking, she also said she liked seeing the pieces alongside Weisend's work because the two show many techniques that can be used in printmaking.
"You kind of relate the two of them together," Crosen said. "It's really cool to see all the different things you can do with it. It's inspiring."