When it comes to juggling responsibilities and personalities, senior Scott Pollack is an expert.
The integrated marketing communications major currently takes a full course load, works 20 hours a week in the college's human resources office and maintains the media group Skipster with Michael Spreter '09.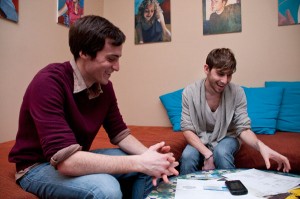 Pollack said having all these responsibilities is time-consuming, but he enjoys what he is doing.
"I really don't have any free time," he said. "If I do have free time, I'm either taking a nap or going to happy hour out of necessity. It's crazy most of the time, but in the end I do it because I like it."
Though Skipster has now become a Web site for all things music — including album and concert reviews, showcasing musicians' artwork, interviewing industry professionals and even booking shows — Pollack originally bought www.skipster.us to help a friend with a class project. When his friend decided against using the site, Pollack was left with a domain and an idea.
"I thought I would love to have a blog," he said. "It would give me something to do, and I would have a platform to talk about music, since it has such a huge presence in my life."
Spreter, who attended high school with Pollack, said the two had a similar vision for Skipster.
"We both acknowledged that there was a void for independent music blogs in upstate New York, and we both have a specific and similar outlook on the scene in general," Spreter said. "We started thinking we would just cover what we were experiencing and try to bring it to other people."
That simple idea has grown from a local music blog to a part of the international music scene. Skipster hosted its first show with Marissa Nadler and local artist Emily Arin on March 11 at Ithaca's Wildfire Lounge. The blog is also featured on popular music blog Hype Machine, which handpicks music blogs posted on the site, stating:
"We look for genuine voices: people excited about music, thinking, drawing, experimenting, creating."
A place on the Hype Machine blog roll shows Skipster has reached past the upstate New York audience. In fact, the site's visitors have shot through the roof. Pollack said it has been an exhilarating change.
"We used to get excited when we had 60 unique visitors a day, and now we're like, 'Wow, we have 800 unique visitors a day,'" Pollack said. "It's crazy how the numbers multiply so fast."
By focusing on New York's void in music coverage, Skipster filled a space in both the blogosphere and the regional music scene. Pollack, who is in charge of booking artists, has become well known in the community.
Luke Z. Fenchel, former writer for the Ithaca Times and The Ithaca Journal, and creator of the online magazine The Ithaca Post, said Pollack's site is genuine. He has grown to know Pollack over years of attending the same shows in Ithaca.
"I love Scott, and really appreciate what he's doing," Fenchel said. "Scott is filling a void for the more obscure bands that Cornell's Fanclub Collective would have brought five years ago."
Pollack said he wants Skipster to stand out in the blogosphere.
"There's so many other blogs that already do that and blogs that I go to that I don't just want to be another voice in the crowd," Pollack said. "We can still have our own market and demographic but at the same time talk about music that's universal. It gives us two different worlds to write about."
Bill Ressler, assistant professor of strategic communication, who was Pollack's adviser for his internship at The State Theatre — an opportunity that helped him become a familiar face in the Ithaca music scene — said he thinks Pollack's people skills have benefited Skipster's community presence.
"He has an extra sense of how to put people together, how to get the right people in the right places," Ressler said. "It's like some computer chip in his brain that just intuits these things and puts the puzzle pieces together."
Pollack said his friendship with Spreter makes running a time-consuming blog more fun than work.
"Because we like each other, we're already willing to listen to each other when we bring a new piece of music or an idea about x, y or z," Spreter said. "It really is conducive to discovering things and broadening your tastes."
Fenchel said the number of fans in Ithaca gives Pollack a chance to fill a demand that may not exist in other cities.
"For a city its size, Ithaca has a disproportionate number of music fans," Fenchel said. "Part of the reason that's the case is that Ithaca is an extremely fertile music scene."
The diversity of the scene has allowed Pollack to hone his business talents and love for music. After trying many instruments at a young age, he said he realized his place was on the industry side and not in the studio.
"For the life of me, I am so not talented," Pollack said. "The passion and obsession is so much there with music that I decided I would be the person on the other side of the studio mirror."