Ask college students what one of their goals is while at school, and they will most likely cite attaining an internship as a major priority. Senior Dan Hirsch, a video production major, realized that an internship would make a nice transition from college life to the real world.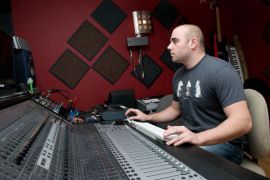 Hirsch has been interning at Moving Box Studios, a multimedia company in Ithaca, since the beginning of the spring semester. Hirsch initially heard about Moving Box through Barbara Adams, associate professor of writing and director of the internship program for the writing department, who helped him look for writing internships that would coincide with his writing minor.
"I thought that would be a great way to get some professional experience writing for a multimedia company, and it would also wrap up my writing minor," Hirsch said.
Moving Box Studios specializes in videography, animation, audio production, graphic design and Web site design. Hirsch attributes much of his involvement at Moving Box Studios to extracurricular activities he participated in within the Park School.
"I can bring my experience that I've had on ICTV and student projects here, and I'm not completely lost," Hirsch said. "I'm familiar with a lot of the stuff that they do, and it gives me a little more of an edge and inside feel."
Hirsch's previous multimedia knowledge has given him a starting point for his internship, but at the same time he welcomes the new techniques he is experiencing at Moving Box Studios.
"It's helping me expand my horizons as a writer because it's letting me write in a medium that I'm not familiar with; it's writing for potential clients and writing for people who are fans of the studio," Hirsch said.
Adams said she recommended this internship to Hirsch, because it encompasses many of his interests and past working experiences.
"I could tell from the topics he chose, he had a lot of knowledge about television, technology [and] gaming," Adams said. "In his internship, Dan is integrating his major and minor creatively."
One of the main concerns on students' minds is where they are going to go after graduation and how they will stack up against fellow job seekers. Hirsch believes that the competitive advantage he is gaining at the studio will prove invaluable further down the road in his career.
"The way the writing industry is adapting, you can't just be a writer," Hirsch said. "You have to know how to put together a podcast. You have to know how to edit the video you shot for that conference you were at. When your project isn't for you, it's actually for a client and you're getting paid for it, it's a whole different dynamic, and you have to approach it in an entirely different manner."
Chris Davidson, one of the founders of Moving Box Studios, has set Hirsch to work on the company's social networking Web sites, blogs and press releases. Davidson explained that Hirsch's internship not only benefits Hirsch, but the company directly.
"It's a great experience for [him] to learn how creative business works, and it's free for us to have new people with new ideas brought in here to keep all the things that we do fresh," Davidson said.
Moving Box Studios relies heavily on Ithaca College interns through their involvement with the writing department's internship program. Davidson said Hirsch exhibits one of the key aspects he looks for in an intern.
"The biggest thing is initiative," Davidson said. "The work that he does needs to be done without being told to do it. It's one of the most valuable things an intern or any kind of employee can have."
Through his involvement with Moving Box Studios, Hirsch has been able to combine his love for multimedia with his academic requirements and career aspirations. Hirsch has gone past the stereotypical intern running to get coffee and has jumpstarted his career before graduating from the college.
"Taking my writing experience and applying it in a production setting is allowing me to diversify who I am and the skills that I have," said Hirsch. "It's cool for me to grow as a writer and grow as somebody who is interested in multimedia."