Fistfuls of loose change and crumpled dollar bills shower into an empty case. The sound of clinking metal coins hardly fazes the violist. She responds by flashing a smile and leans into her instrument, drawing out a tone that takes flight and soars above The Commons.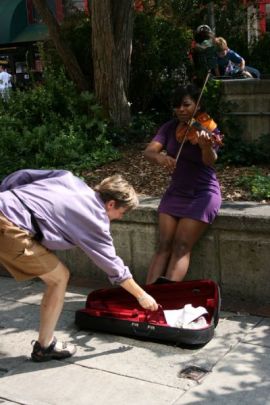 It's this beautiful and uplifting music that has kept senior Nicole Wright playing the viola for the past five years. Wright is in her ninth semester of college as a student of the Ithaca Conservatory of Music with a double major in music performance and music education. She has found a way to cope with the financial stress so many students experience. She just picks up her viola and heads towards The Commons.
"I basically like to make music," Wright said. "And I like people to hear it. I just pick up and play whenever I feel like it."
As a child in Brooklyn, Wright was introduced to the violin through lessons with violinist and teacher Roberta Guaspari, who became well known for her work to keep music education in public schools and was portrayed in the 1999 film "Music of the Heart." Wright said even as a child, she was happy to perform and play music.
"I would tap people on the shoulder and make them listen to me," she said. "If I didn't know anything, I'd make something up and say, 'Did you like it?' I was a little kid, and I loved to play in front of people."
Eventually, she switched to the viola — which has a tone that fits in between the high pitch of a violin and the low timbre of a cello — a decision she is very satisfied with.
"I guess I've always had a viola sound," she said. "I love the violin also, but I think it's a better suit for me."
Wright's music has taken her on a journey from California to Switzerland. She even has played the national anthem at Knicks' basketball games. Despite the many distractions and commitments college brings, she insists her practicing habits at Ithaca are still rigorous, often preparing for recitals, auditions and lessons simultaneously.
"I live in the practice room," she said.
Wright's practice extends outside of the music building and into downtown Ithaca where she performs on the street, commonly referred to as "busking." On occasion, Wright has been asked to perform at weddings and record music for television shows, such as Hustle & Flow. While performing on the street, she collects money tossed in her case.
Other students consider busking to get by, as well. Freshmen Elliot Formal and Jesse Caruso along with sophomore Benya Barshai get together to play an eclectic blend of classical and jazz. The sounds of Caruso's violin and Formal's and Barshai's guitars are perfect for The Commons, according to Barshai.
When the three roommates get together outside of their residence hall to play, they always seem to attract a small audience.
"We play everything from classical Mozart and Beethoven to Titanic mixed with Fall Out Boy," Barshai said. "Maybe a little hip-hop with some gypsy jazz, too."
Caruso said every student on campus is trying to find a way to make money.
"We're all college students and we're all poor," Caruso said. "Hopefully, going down to The Commons will change that."
The city of Ithaca appreciates musicians who love to perform in public. City Clerk Julie Holcomb provides the paperwork and permits necessary for public performance in downtown Ithaca. Holcomb, who observes these performers daily, said the performers are an asset to the Ithaca culture.
"We have some really talented musicians in the area, and we encourage them to be mindful and to share their music with everyone," she said.
Wright knows all the right times and places to play on The Commons.
"A good time would be right around lunch time, four to seven," she said. "I try to stay out of people's way and not be anywhere really, really busy. I sometimes sit or stand in corners."
For all musicians, The Commons is a practice room. And as they have learned, practice not only makes perfect, but it can also make some money too.
"The extra money is nice," Wright said. "One day I made $60 in an hour and a half."
For Wright, though, busking is more about perfecting pieces than paying the bills.
"It's really good because it helps me when I play," she said. "It helps with stage fright, listening and making connections."