Techno music played, and images of Europe were projected on a screen one December night in Pixel Lounge on Dryden Road. Some people watched the slideshow, others listened to the digital melodies and many chatted and mingled. But everyone quieted down as English translations of poetry by Bosnian writer Sasha Skenderija were read.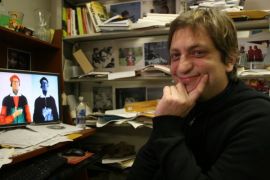 "I had always wondered how it would feel / To survive an airplane crash / Chosen / By the mercy of a statistical paradox…"
Skenderija can be found most days at the Cornell University Law Library, working as a research technology coordinator, but his poetry is his passion. "I Had Always Wondered How it Would Feel" is just one of 69 poems published in Skenderija's book, "Why the Dwarf Had to Be Shot," published in November.
On Saturday, Skenderija will read excerpts from the book at the Bookery II in the DeWitt Mall on North Cayuga Street. While the poet's first reading at Pixel was a multimedia show, Skenderija's next reading will be more traditional, said Aaron Tate, lecturer in classics at Cornell, who helped translate a few of the poems and DJ-ed after the Pixel event.
"[The Pixel reading] was very interactive," Tate said. "The Bookery II will be a great venue, too, because the poems deserve many hearings, and they will speak well in each context. Pixel was much more of an urban club atmosphere."
While some of his poems are about love, appropriate for a Valentine's Day reading, the audience can expect to hear poems that explore other topics, such as war, family and hope.
"[The poems] are a kind of selected autobiographical time line," Skenderija said.
Skenderija was born in Bosnia in 1968. He wrote his first poem at the age of 16 and was published in Yugoslavian literary journals in the late 1980s. He graduated from the University of Sarajevo with a bachelor's degree in comparative literature and librarianship in 1991. In April 1992, Serb forces besieged Sarajevo, targeting civilians and killing more than 12,000 people during the next four years.
These events, as well as others in Skenderija's life, continue to influences his poetry.
"Sometimes you write because you want to share a piece of the world with a person," he said.
Skenderija fled Sarajevo in September 1992 and spent seven years in exile in Prague. There, he earned a doctoral degree in information studies and librarianship from Charles University. Looking for someone to translate his poetry, Skenderija got in contact with Wayles Browne, a linguistics professor at Cornell, through mutual friends. Browne then became the principal translator for his poetry from Bosnian to English.
"I knew his language, and I was interested in the samples of his poetry," Browne said. "I can't say I like all kinds of poetry, but I like his."
They communicated by e-mail for a few years before Browne finally traveled to Prague in 1996, when he first met Skenderija in person. A talkative and thoughtful Skenderija showed him around Prague as they discussed plans for future translations.
"Talking with him is like playing tennis," Browne said. "You have to keep tossing the ball back and forth."
Three years and several translations later, Browne helped Skenderija, his wife and their young daughter Mirna move to Ithaca.
"There is no other American city of this size that I would exchange Ithaca for," Skenderija said.
In 2008, after 15 years of work, Skenderija, Browne and a few other translators from Ithaca finally finished enough material for his book.
"Why the Dwarf Had to Be Shot" is split into three sections, each with poetry that relates to a different time in Skenderija's life. The first section, "Nothing's like in the Movies," is about his life and feelings during the siege of Sarajevo. Skenderija said the second section, "Prague Practicals," includes more poems from Sarajevo and about living in exile in Prague. The third part, "Loci Communes," consists of three poems about his life in Ithaca.
Tate said Skenderija's zest for life comes through in his writing.
"Sasha is extremely energetic and entirely engaged with living," he said. "He is someone who has fully realized the ability of the world and his own poetry."