Every side and size of obesity gets explored in "Fat Pig," a play that shows how love truly is a matter of inner beauty. Outrageous comedy navigates through the heavy issues of self-image and physical appearance in a society based on appearances alone.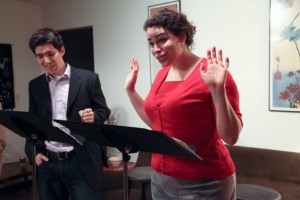 Neil LaBute's unconventional love story explores a modern couple's dilemmas and how these difficulties sometimes lead to the desire to give up and move on, leaving someone in love faced with an impossible choice.
This staging of "Fat Pig," presented by The Readers' Theatre,  has the actors performing with scripts in hand instead of memorizing lines like a traditional play.
The play frames the relationship of an ambitious — insensitive but ultimately well-meaning — yuppie, Tom (Masa Gibson), and his new, severely overweight girlfriend Helen (Amina Omari) against the hatred and ridicule of their friends. LaBute's poignant writing, always sardonic yet insightful, speaks truths often left unspoken.
Director Anne Marie Cummings, artistic director for The Readers' Theatre, said the play serves to help remind audiences that society is still more than a few pounds away from being truly accepting.
"By the end of the play … audience members question their own ability to change what they find unattractive in themselves," she said.
The characters must reconsider the importance placed on physical appearance, especially when faced with the emotional cruelty of Tom's co-workers, Carter (Tim Perry) and Jeannie (Abby J. Smith).
Omari said the play addresses human desire.
"The cast is ready to take on the complexity faced in performing 'Fat Pig,'" she said. "We can work really hard on accepting ourselves, but we still want to be accepted by others."
Smith said playing the judgmental Jeanie was difficult for her, but she hopes people will still connect with her character.
"Audiences can relate to the self-doubt and insecurity Jeannie experiences due to the pressures to fit in," she said.
Gibson, Omari and Smith came from The Actor's Workshop of Ithaca to collaborate with Perry, a local artisan, and Cummings. Tompkins County Legislator Peter Stein will read the stage directions.
The actors also have limited rehearsal time before the reading. Cummings said the short rehearsals help the actors focus on their roles.
"This forces the actors to make spontaneous decisions, not question their instincts and dive headfirst into the play," she said.
In reader's theater, scripts are still used onstage. This allows the production to come to fruition in a shorter time with a smaller budget. A staged reading focuses on the idiosyncrasies of each character, the interactions between the actors and the script instead of other artistic elements like costumes or set.
Cummings said she prefers the term "performance readings" to staged readings.
"It's still as if you were seeing a play," she said. "They are moving, they're in their bodies, they're very much alive in their characters. They just haven't memorized their lines."
At Buffalo Street Books, the actors will perform in front of a black curtain with matching music stands and stools. They are not necessarily in costume, just in clothing they find comfortable and conducive to their character. Sound and music are incorporated into the readings.
However, Cummings said the main concentration is always on the actors.
"It's like the revival of the radio play in a sense," she said. "The audience is listening and absorbing what's going on, and, at times, if they close their eyes, they can imagine the world of the play."
Cummings said "Fat Pig" is a great show for college students to see because of the theme's relevance of peer pressure influencing relationships as well as body image.
"We can learn from these characters," she said. "If you are somebody who has been judged and someone said to you, 'I can't be with you because you're overweight, or you're not pretty enough or handsome enough for me', you do get a little bit of insight into the world of shallow people."
If You Go
"Fat Pig"
When: 8:30 p.m. March 18 and 19 and 6:30 p.m. March 20
Where: Buffalo Street Books
How much: $8