Chili Cook-off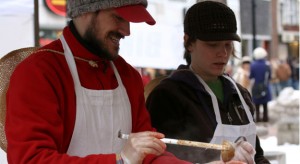 With the second annual Chili Mustache Competition, this year's 13th anniversary adds new flair to the festival. Matthew Riis, marketing and events manager for the Downtown Ithaca Alliance, said to expect plenty of new games and entertainment, along with classics like the mechanical bull, wine and beer tastings and the people's choice chili competition. Upwards of 30 restaurants will compete this year.
Riis also said the event is one of the best for bringing students and local residents together.
"We get a tremendous amount of support from students both at Cornell and Ithaca College coming down to participate and volunteer," he said. "It's a great event for a large cross section of Ithaca's population to come out, get something to eat and interact."
When? 11 a.m. to 4 p.m. Feb. 19
Where? The Commons
How much? Five samples for $5, 11 for $10
My Brightest Diamond
Mixing classical rock and modern pop, singer Shara Worden brings some soul to her indie rock group, "My Brightest Diamond." For her self-written music, Worden takes inspiration from multiple music avenues, including gospel. She is currently test-running material for an upcoming album.
"It's one of those 'try-it-out-before-you-record-it' tours," she said. "I've never worked this way before. But in front of people you often do things differently, and it's usually always better."
Worden said this tour will feature all brand-new music.
"My relationship to the music and the impetus for writing music feels very different than it did when I was writing songs before," she said.
When? 9 p.m. Jan. 30
Where? Castaways
How much? $12 to $15
Whose Live Anyway
After the success of the improv TV show "Whose Line Is It Anyway?" the group is now on tour. Greg Proops, one of the performers, said the humor is what keeps it fresh for all of them.
"We find ourselves enormously funny," he said. "If we didn't think it was funny, I don't think we'd do it anymore."
Proops said they play classic games like Sound Effects from the show, where audience members are called up on stage to make all of the sound while the performers mime actions.
"It's just a lot more interactive and immediate because you're not looking through a piece of glass," he said.
When? 8 p.m. May 11
Where? The State Theatre
How much? $24.50 to $36.50
GZA
Called "The Genius" by his fans, GZA is the founding member of the hip-hop group the Wu-Tang Clan. Known for his dense lyricism and precise flow, GZA  plans to release another solo album in 2011.
Senior Reece Lazarus, director of the Bureau of Concerts at Ithaca College,  said he hasn't had a chance to do a hip-hop show yet. He said he was surprised he was able to book an artist like GZA.
"The issue with hip-hop is a lot of big names cost a lot more than what we have in our budget," he said. "This was a lucky happenstance. A lot of students list hip-hop as their favorite genre, so I felt like it was time we did something here."
When? 8 p.m. Feb. 12
Where? Emerson Suites
How much? $10
"Spark of Being"
This experimental film is a retelling of the "Frankenstein" story, told through the lens of contemporary art.
Christopher Riley, managing director at Cornell Cinema, said experimental filmmaker Bill Morrison uses decaying footage, as well as new and archival footage.
"It tells the story in an innovative visual way," he said. "The film is completely silent and a band plays live underneath."
Jazz musician Dave Douglas and his band Keystone will perform their original score to accompany the film.
When? 7:30 p.m. Feb. 4
Where? Willard Straight Theatre at
Cornell University
How much? $15 to $25
Rhythm & Brass
Combining music from Pink Floyd's "The Dark Side of the Moon" and "The Wizard of Oz" in a 25-minute performance art piece, this brass group often puts a different spin on its music.
Alexander Shuhan, associate professor of music performance at the college and horn and piano player for Rhythm & Brass, has been with the group for almost 20 years. He said the group's original work is what sets them apart.
"We include percussion and keyboard and play the music we like, whether it's great rock 'n' roll, tunes by Bach we transcribe or something one of the guys in the group writes," he said. "It's a pretty mixed bag."
Shuhan will celebrate his wedding anniversary during the Valentine's Day concert and play a piece he wrote for his wife.
When? 8:15 p.m. Feb. 14
Where? Ford Hall
How much? Free
Peking Acrobats
With gravity-defying acts — balancing on chairs or even just each other — the Peking Acrobats bring the discipline and beauty of acrobatic art on tour.
Cynthia Dike-Hughes, vice president and COO of IAI Presentations, Inc., who represents the Peking Acrobats, said the performers inspire others.
"Not only are they a cultural performing group sharing their history, but you see the extent of human possibility," she said. "Their acts are awe-inspiring and death-defying."
This year the group is celebrating their 25th anniversary performing. The show includes 20 acrobats performing to the live music of the Women's Peace Orchestra of China and features puppets, adagio ballet and contortionists.
When? 6 p.m. March 12
Where? The State Theatre
How much? $24.50