With fall fast approaching, high-waist shorts, paper-thin tops and structured summer dresses won't make the cut for much longer.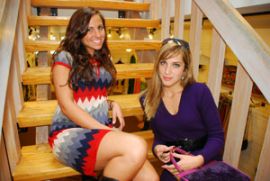 Junior Nicole Phillips said girls are preparing for the seasonal shift in fashion.
"At the end of each summer, I'm always a little wistful since it means the end of easy, warm-weather dressing and the time to start layering," she said.
Every season, there is a new crop of trends that spring from the collections of the fashion industry's top designers. Rather than shell out a few grand for a couture or ready-to-wear dress, college students can find many of the upcoming season's high-end designs right in Ithaca, some even at reasonable prices.
New York-based fashion photographer Justin Campbell said this fall is all about bringing fun back into fashion and adding a modern edge to past trends.
"The three prominent trends at fashion week last February were plaids, pastels and pieces that took note from history," he said.
Campbell will be photographing models on the runway tomorrow for New York's Fashion Week. In addition to working as a photo assistant at Vogue, Campbell worked as a photographer during last February's Fashion Week, where designers previewed their fall collection.
"Designers used accessories in ladylike pastels to balance out voluminous jackets and bold prints," Campbell said.
Phillips said she is excited by the presence of bright colors in this year's fall trends.
"I don't want the beginning of fall to mean buying clothes in drab colors," Phillips said. "I want to feel both fun and sophisticated when I go to class."
Morgan's boutique on The Commons has a wide selection of party tops and jeans. The racks have an array of modern, tailored jackets and loud statement accessories that will add brightness to the grayer days ahead.
Popular items at Morgan's include a pair of wide-leg cotton trousers by Juicy Couture and a black bomber jacket by Vintage Savannah. The jacket is similar to a design seen at a Marc by Marc Jacobs runway show at New York's Fashion Week last February.
Nicole Watson, manager of Morgan's, said fall trends include lasting wardrobe staples.
"Items like skinny jeans and over-sized sweatshirts are popular for fall," Watson said.
Prices at the store range from cotton scarves for $14.95 to a metallic embroidered Free People top for $98.
Junior Kelli Maniscalco purchased the Juicy Couture trousers and combined them with a sea green woven scarf and gold peace symbol earrings, reminiscent of a pair featured in the August edition of Vogue.
"I like mixing more tailored pieces with some funky accessories," Maniscalco said. "It gives the whole outfit a more youthful look."
A couple of doors down from Morgan's is Avanti!, a boutique that opened last fall. The store is the place to purchase make-a-statement pieces at affordable prices, with dresses ranging from $30 to $70. Avanti!'s accessories include colorful wooden bangles and bright costume jewelry, priced from $14 to $19.
Avanti! Manager James Thompson said overstated jewelry is a top trend this fall.
"Earthy jewel-tone colors and accessories like wooden bangles are doing really well," he said.
Campbell said celebrities are taking their fall fashion to a daring level, but one that can be duplicated.
"My favorite this fall are the liquid leather leggings," Campbell said. "Recently seen on the likes of Victoria Beckham and the Olsen twins, they give the wearer unbeatable allure."
Campbell said leather leggings are for the more daring students, but they could be a nice upgrade from the cotton variety seen in past years.
Phillips' favorite accessory at Avanti! is a wide-rimmed red hat that has come to be known as the "J Lo," with a loose rim that casually hides an eye.
"It's a little impractical, but it's the perfect accessory to make a statement," Phillips said.
A reappearing trend this fall is the sweater dress, with designers like Stella McCartney sending colorful options down the runway. Among Avanti!'s racks, shoppers can find a colorful striped turtleneck dress by Lulumari, complete with statement buttons.
"Layering scarves and wraps with sweater dresses and jersey wrap sweaters is going to be really big trend this fall," Thompson said.
In the heart of The Commons is the newly moved Petrune, Ithaca's go-to place for great vintage finds. The store recently expanded and has incorporated new clothing brands into its collection, like the Tulle, Seychelle and Honeydew. Petrune offers classic accessories with modern detailing, with a table displaying berets in every color as well as shelves full of embossed leather bags.
Maniscalco said she was attracted to a surreal-style rainbow-colored vintage handbag.
"It reminds me of a painting by Van Gogh," Maniscalco said. "It's something people will stop you in the street to ask you about."
In Collegetown, the trendy boutique Some Girls is filled with recognizable brand names like Free People and American Apparel. Some Girls' top sellers include a '90s grunge-style plaid shirt by BB Dakota and the classic American Apparel loose-fit T-shirts.
The store also sells black-rimmed glasses, which when paired with a collegiate cardigan, can complete a "geek chic" look.
Manger Jan Verberkmoes said Some Girls tries to offer its customers a wide variety of looks to try on.
"The eyewear is a great trend," Verberkmoes said. "We try to buy into popular trends as much as possible.
Verberkmoes said the high-waist trousers and coats by BB Dakota have been a big hit, but college students especially love denim.
"Color denim did really well," Verberkmoes said. "They're our leaders so far."
Those looking to get in on fall's plaid frenzy can also purchase a Free People dress in red and black plaid with an eyelet hem.
Junior Anne Pease said that her goal for fall is to find a perfect fitted leather jacket.
"It's a great item to add some edge to an outfit," she said.
Pease plans to take advantage of Ithaca's boutiques in her search for a classic vintage pocketbook as well.
"It's time for girls around campus to realize there is something else other than that silly Vera Bradley business," she said.