After 200 hours of research, countless attempts for celebrity interviews and about $2,000 in expenses, sophomore Kris Lynds and freshman Jay Sacharoff will leave tomorrow to drive across the country to Seattle to film a documentary.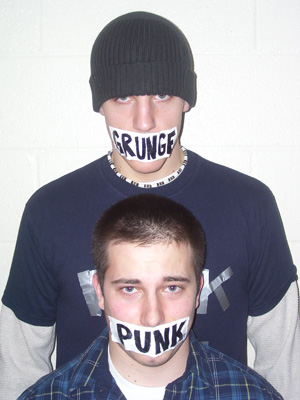 In a 1992 documentary called "1991: The Year Punk Broke," Thurston Moore, lead singer of Sonic Youth, says, "The future is a dare." Lynds and Sacharoff hope to find out whether the hostility that drove grunge and that statement is still the driving force behind the music today.
"Our documentary will be focused more on love for the music and will primarily consist of footage and interviews influenced by what it means to be a fan," Lynds said.
Sophomores Mike Kmet and Mike Bergeron and freshman Dave Gelb will join Lynds and Sacharoff in their travels to Seattle; Los Angeles; Astoria, Ore.; and later New York City during spring break to film the remains of grunge music.
Punk music started as an underground phenomenon in Liverpool, England, during the '70s and '80s and quickly spread to the U.S. By the early '90s, grunge music, an extension of hardcore punk and heavy metal, exploded after Nirvana's major label debut, "Nevermind," hit No. 1, knocking off
Michael Jackson's "Dangerous" in 1991.
The punk philosophy comes from a rebellious, anti-authoritarian philosophy. Lynds plans to convey the animosity that bands felt toward mainstream rock, the culture shock that America went through and fans' excitement across the world. He will also show the beauty and depth of the music scene in the late 1980s and early '90s through interviews and footage of those who helped define the era.
"The only reason I started it was because it was a really big undertaking that related back to my childhood," Lynds said. "It was such a big part of the culture while I grew up."
Lynds was never interested in punk or grunge music, but he wanted to learn more about the genres. When he was assigned to make a documentary for Nonfiction Production, Lynds approached his friend Sacharoff about being assistant producer, a big fan of grunge.
"I'm just obsessed with the whole early '90s rock era," Sacharoff said. "I've read a lot about it and Kris had to do a little more to catch up."
Meg Jamieson, assistant professor of cinema, photography and media arts, teaches the class. Jamieson said Lynds is committed to his work and gives feedback to other students on their projects.
"I expect that, as with all the projects in the course, Kris will engage with his material in a thoughtful, unique way," Lynds said.
During break, Lynds and Sacharoff will have the opportunity to talk to the big guys in grunge like Moore and Hilly Kristal, founder of CBGB in New York City. Lynds and Sacharoff said it was much easier to contact celebrities and record executives than they expected. Acting as professional as possible, the two just had to go through the right channels.
"Some people have higher expectations than others," Lynds said. "Jack Endino, a producer of older grunge albums, has a Web site saying that you must take him out to lunch in order to speak with him."
Moore was easier to get to. Lynds and Sacharoff found his address through WhitePages.com. Since Moore lived in Lynds' hometown of Northampton, Mass., Lynds' dad simply dropped off a letter at Moore's house.
Krist Novoselic, ex-Nirvana bassist; and Jonathan Poneman, CEO of Sub Pop records have confirmed interviews. But Lynds and Sacharoff are still awaiting confirmation from ex-Nirvana drummer Dave Grohl, ex-Soundgarden singer Chris Cornell and artists from about 30 other bands from the Seattle area.
Lynds and Sacharoff applied for several grants to help fund the documentary, but so far, they've been unsuccessful. They are still waiting to hear back about the Sundance Grant, which would give them $15,000.
The documentary will be completed for Nonfiction Production by May 11, but Lynds doesn't see the project ending there. He plans to work on it throughout the summer with high hopes of turning it into a feature-length documentary.
As they work on getting interviews with editors from Rolling Stone magazine, Lynds and Sacharoff hope to pitch the documentary to the publication. Lynds said he hopes to send it to festivals and distribute it as much as possible.
"I just want to get my name out there," Lynds said. "Not that I'm doing this to become popular, but all directors need their calling card and I hope this can do that for me."