The animal instinct takes over.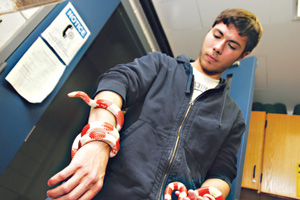 As Zach Cava dangles a recently thawed dead mouse with silver tongs into a tank containing an Albino Nelson's Milk Snake, the 4-year-old reptile's body tenses up.
The presence of the snake's favorite meal has not gone unnoticed. With slow deliberation, it takes a moment to plan the attack. Then, in the blink of an eye, the snake strikes.
Watch Zack Cava feed a dead mouse to a milk snake.
Open in new window
"There it is," the biology major said in the Center for Natural Sciences, like it's something he's seen a thousand times.
Of course, Cava has done this before. Not only does he have experience feeding and caring for his six milk snakes (two Albino Nelson's, two Sinaloans and two Black Milk Snakes), Cava has also taken care of salamanders, newts, chameleons and geckos since he was 7 years old.
"Reptiles have something cool and artistic about them, in their appearance, how they move, how they think," said Cava, a Bala Cynwyd, Pa., native. "I'd bring them into the house since I was really little."
It started with his first gecko, which piqued his interest in reptiles. After researching color variations, he purchased five more.
"I had a huge container [full of geckos] in my room," Cava said. "It was like a gecko village. But once I settled down, I thought, What else can I do? So I moved on to Jackson's chameleons."
His mom, Denise Avayou, who recognized a connection between her son and his favorite animals from a young age, spent Zach Cava's childhood adapting to his broadening interests.
"We always had strange things delivered to home," she said. "I was scared sometimes, like when I'd be thinking it was a huge frog, and then I'd slowly unwrap it to find it was a tiny, one-inch-long thing. I felt so stupid, but it got big."
Cava's parents weren't too keen on the idea of a snake around, after one of Zach Cava's first snakes, a small King, got loose in the house and was never found.
"We didn't sleep well that night," Denise Cava said. "But after a while we kind of got used to it and never ran into it."
Eventually, the Cava parents caved and their son purchased his first milk snake, and since then he has acquired five more. This year, he plans to do something he's never done before: He hopes to breed two of his snakes.
It's a challenge that is easier said than done. In order to simulate the natural mating patterns of snakes, Cava must cool them down gradually and stop feeding them as if they were entering hibernation, and then leave them alone for three to four weeks. Then, after gradually warming them up and resuming their feedings, Cava will introduce the male snake into the female snake's container. He'll have to watch them carefully, as milk snakes are prone to cannibalism.
It's a sensitive process, but Cava is determined.
"I'm planning on having babies in 2008," he said.
Cava's desire to breed his milk snakes comes more from a scientific fascination with the reptiles than an emotional attachment to his pets. In fact, the six snakes he has now don't even have names.
"It's not like a relationship that someone has with a dog or a cat," Cava said. "The intimacy you can have with a dog or a cat isn't something you get with snakes. They're much more primitive creatures. That's what attracts me to them."
Cava said he enjoys the challenge of taking care of his reptiles because of the reward that it brings. According to Denise Avayou, caring for animals has always been a talent her son possessed.
"He was really good at diagnosing illnesses," she said. "He insisted on taking a gecko to the vet once, spent $100 finding out what was wrong with it, and it turns out he was right all along. He nursed it back to health for six months."
Cava said that the patience it takes to care for reptiles suits him well. He's used to breeding other reptiles, but he's especially excited to try it with snakes.
"To be able to breed them is kind of artistic," Cava said. "You get to figure out what variations and colors you want. It's great to see them hatch out, and know that you were responsible in part for that happening."
Cava's family and friends have adjusted to his hobby. His roommate, sophomore Jack Drew, said he's even enjoyed being around Cava's snakes.
"I've learned a lot about [them]," Drew said. "It's something [Cava] has a lot of knowledge in, and I think it's cool."
Like Denise Avayou, Drew has felt the effects of living with Cava and his hobby.
"It's kind of funny when snake magazines appear," Drew said. "It's not a normal magazine you would see in a college dorm room, but it's kind of a funny side effect."
The snakes' simplicity is what fascinates Cava the most.
"They're very simple, and they've been around for thousands of years," he said. "You know that after all this time, something works."