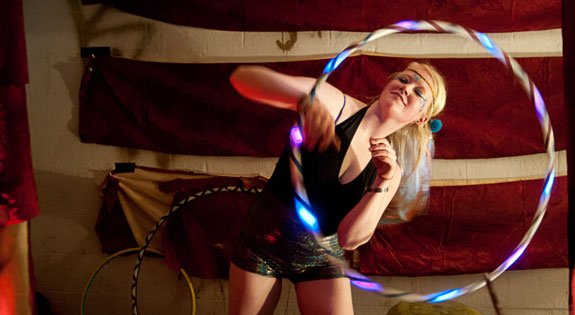 Leading the way down uneven stairs, junior Sallie Robinson carries a stack of folded red and white sheets to the spacious, empty basement. Exposed pipes hang from the low ceiling, where off-white paint is chipped and exposing worn cement. To Robinson, it is the perfect blank canvas on which to create a rave.
She drops the pile of fabric and stretches out her arms to outline where she wants the thick, red panels to hang. She turns to her friend, sophomore Leo Oliva, for advice.
"Would it look strange if I hung a shorter gold one here?" she says.
Oliva examines the layout of the sheets that Robinson temporarily arranged as he juggles two black lights under his arm.
"Honestly, I would just go all red," he says as he places a light behind liquor bottles filled with fluorescent fluid.
For now, the basement is just another poorly lit space. But later, it will transform into an illuminated raver's fantasy — Robinson's vision.
Robinson, Oliva and a few other friends gathered last Friday to set up for their final rave show of the season, featuring sophomore performer Tom Burchill. Senior Sara Gardner also helped with the setup, which was the final step in their long planning process.
"We took the whole day to get everything really figured out," she said. "We were planning this for weeks in advance."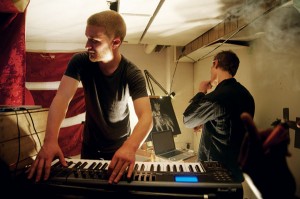 Once darkness has fallen, the ceiling of the room has been draped with black-lit crocheted blankets. Fluorescent art pieces hang on the wall against the staircase. Following the sound of the heart-pounding bass, bright lights are cast on the performers behind reflector cones.
Behind the "do-not-cross" line, the three performers create a carnival-like spectacle for their hyped audience of more than 50 people. Robinson dances with a hula hoop on a small platform wearing skin-tight lamé shorts and painted turquoise swirls around her eyes. She sticks out her tongue and smiles while the crowd shouts her name. A projector illuminates the wall to Robinson's right, highlighting the drum set that Burchill sporadically plays. Behind Burchill's DJ booth, Oliva stands arched in front of his aisle with a single cigarette tucked behind his ear. Letting the music inspire his painting, Oliva furiously brushes his stretched canvas.
Toward the front of the crowd, Gardner happily bounces around in the audience, her messy blonde bun bobbing with every move. She pushes through the crowd and points to Burchill, his face glowing blue from the laptop.
"This is one of their best shows yet," she says after cheering for Robinson. "It's amazing what they can do just feeling the music."
As the music fades out, Robinson steps down from the platform, one fur-covered foot at a time.
A raver at heart, Robinson was introduced to the scene while growing up in Baltimore, Md. Just before she left for college, Robinson noticed that raving exploded in popularity, especially among the college-aged demographic.
"I watched the scene go from all the underground ravers who would be at these warehouse shows," she said. "It progressed from this underground culture to something that was just like, 'Oh this is what we are going to do Friday night.'"
Though she had to leave her beloved city behind for college, Robinson was surprised to find a small rave scene in Ithaca. Because there weren't any underground warehouse parties, Robinson and her friends would go see artists like the high-energy electronic group Big Gigantic when they came to Castaways.
For Robinson, raving is more than just the music. She said there is a "quintessential motto of raving" known as PLUR — peace, love, unity and respect. Because the raving community is very accepting, she said, particular dress is not a concern.
"You go to a club and there is a sort of uniform, like a short-ass dress and f—ing huge heels," Robinson said. "But when you go to a rave you can wear like a mask, a bikini and furry legs. That's normal."
Raving is a national obsession and one that has gone mainstream, Robinson said. Large-scale parties like DayGlo, a rave-like event that boasts to be "the world's largest paint party," are often frowned upon by the raving community. While these events feature the same electronic music, they have the completely wrong vibe, she said.
"It kind of like takes the idea of raving and makes it incredibly mainstream by packaging it as DayGlo where you go to get f—ed up and f—ed, pretty much," she said.
Robinson said she steers clear from the event all together.
"It has a such a stigma attached to the name in the raver culture," she said. "It's just not something we go to."
You go to a club and there is a sort of uniform, like a short-ass dress and f—ing huge heels. But when you go to a rave you can wear like a mask, a bikini and furry legs. That's normal. – Sallie Robinson
Like Robinson, sophomore Kanoa Ishihara got into the rave scene in his hometown of
Honolulu. At a young age, Ishihara listened to plenty of electronic music, but didn't
attend a rave until a friend suggested going to a local show. Then, it was love at first rave.
Ishihara said he began going to raves every weekend at the same venue, and he knew at least half the people there. After a while, he said he developed two personas around Honolulu.
"There is everyone who knows me as Kanoa, the awkward student," he said "And Bear, the crazy raver."
Ishihara watched the raving culture transform once he moved from Honolulu, where the first large-scale music celebration, The Love Festival, was created.
"Before there was a culture, and now it is so mainstream it has spread to the point where everyone knows about it," Ishihara said. "You don't need to know the culture of it to know what is going on and understand it."
Though the raving scene has significantly changed for Ishihara, his passion for raving has yet to die out. This summer he will travel across the country to attend music festivals like Summer Camp, Electric Daisy Carnival, Electric Forest, Camp Bisco and Electric Zoo.
While Ishihara is "an ocean and a continent" away from home, he said he can't help but look forward to traveling around Central New York with his friends and his signature light gloves in search of a rave.
"I freeze my ass off here, but there is something about this place," he said. "There are a lot of folks that are always down for an adventure."