The lips of freshman Jaylene Clark formed words with a fiery purpose and pride as she tapped out a beat on her thigh. Eyes closed, she swayed along to the rhythm and rhyme she created with her buttery voice, echoing through the room.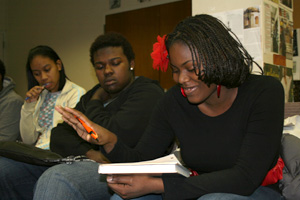 At the first meeting of the new club Spit That! in October, Clark greeted new members with a performance of some of her award-winning work. In a piece called "Detrimental to My Health," Clark, the club's president, captured vivid images and the struggling emotions of young women facing the pressures of sex. Clark's spoken-word poems left her small audience clapping for more.
Sophomore Taylor Desir said Clark makes the group feel like a team.
"When she gets up to speak, you can hear the passion in everything she says," Desir said.
Clark started writing poems in an eighth grade after-school program at Harlem School for the Arts in New York City.
Ithaca College has never had a spoken word poetry club until this year, when six-time national slam poetry competition winner Clark proposed to create the first on-campus haven for writers and performers.
At the first meeting, Clark asked members what they expected to gain from the club. They seemed to be looking for a non-judgmental community to develop and share thoughts and become further educated within the genres of spoken word performance, from rap to pure literary verse. The group ranged from biology majors to vocal performance majors, and yet the love for words and enthusiasm about the kickoff of this new artistic circle brought members together.
"We want people to be able to speak their minds and express their emotions," she said. "You don't have to be ready for Def Poetry Jam to participate in our club."
For senior Emily Christensen, vice president of the club, her love of theater and poetry helped her take her writing to the next level. An avid reader and writer, she was excited about creating a stronger poetic community at the college. She said she feels it is important to promote a space for creativity and expression.
Monday night meetings usually include sharing work and participating in writing or performance exercises in small groups using both original and published poems.
Freshman Kristie Yeung said when she first attended meetings, she never liked to share her personal work, but she gradually became more confident.
"The members of the club have really encouraged me to share my writing," Yeung said. "We help each other by offering lots of positive feedback, suggestions and constructive criticisms. The club itself is just a great forum to be creative".
This year, Spit That! has performed in campus events, including a show during Martin Luther King Week. For the Black History Month Showcase Feb. 22 in Emerson Suites, which Spit That! co-sponsored with the African-Latino Society, Clark brought a number of New York City–based slam poets to the college to share the stage and discuss their experiences as professional artists with Spit That! members.
Spit That! will collaborate with IC Breakers, the break dancing club at the college, April 21 in the Fitness Center. The show will incorporate dance techniques into the poems. Spit That! will also perform at Asia Night on April 27 in IC Square.
Katharine Kittredge, an associate professor of English and the club's adviser, is proud to be part of such an endeavor.
"For most people, writing poetry is a solitary activity," she said. "Spit That! allows writers to be part of a larger, supportive community."
Yeung said the members' positive energy and excitement is what draws her to meetings every week.
"[Spit That!] is one of the few things that I attend religiously," Yeung said.