Thirteen years ago, the State Theatre was in danger of being demolished.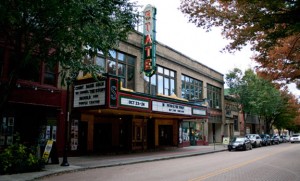 Doug Levine, executive director of the theater, said when the preservationist group Historic Ithaca bought it, financially the building almost wasn't worth saving.
"When they took over ownership, it was like flipping a coin between restoring it and coming in with a wrecking ball," he said. "It was in that bad of a shape."
Now with a restored building and a new business plan for generating revenue, the theater is reviving and has welcomed artists like John Hiatt, Broken Social Scene and Guster, who performed Monday.
The theater, which is the only remaining theater of the 17 that have populated downtown Ithaca over time, was saved from condemnation in 1998 by Historic Ithaca. The organization began a restoration project that repaired the 30-year-old rotting roof and replaced the theater's electrical systems.
Alphonse Pieper, executive director of Historic Ithaca, said the organization stepped in to restore the theater because there were no other options.
"Historic Ithaca really comes in as the owner of last resort," he said. "The theater was vacant, and the owner at the time was saying if he did not find a buyer, he was going to demolish it. We felt fixing it was well within our mission."
The theater today remains a vital historical landmark. Since its opening Dec. 6, 1928, the theater has provided locals with amusement. Pieper said the theater is an important part of the community because it helps to diversify local business.
"It provides a transition from the Commons to the rest of State Street," Pieper said. "Often a vacant lot can prevent growth of businesses nearby. Since the State Theater [was restored], there's been a lot more activity on that other end like Mama Goose, Ithaca Foreign Auto and Gimme! Coffee."
In spring 2009, State Theatre Inc. bought the theater from Historic Ithaca. Dan Smalls, the theater's executive producer, who is in charge of booking musical acts, said it was time to see if the venue could be revitalized.
"Historic Ithaca is owed a tremendous debt of gratitude," Smalls said. "They were the ones who kept it alive. What we did was basically take it off of their hands and come at it with a new model that seems to be working."
Since taking over, State Theatre Inc. has brought an original vision to running the theater. They have a 79 percent to 21 percent earned to unearned revenue policy. The earned percentage, which provides most of the budget, includes ticket sales, sponsorships and rental fees. The unearned portion comes from community donations and grants.
David Dier, a director on the State Theatre's board, said this plan is unusual for the theater business, as most theaters maintain 50-50 ratios in the best of times and have had to change because of recent economic times.
"Our model is in a lot of ways just totally different from what the normal theater model would be," Dier said. "You can almost turn the unearned/earned numbers around, and that's what a lot of theaters are basing their staying open on."
Levine said the business plan has been successful so far.
"It's working for us," Levine said. "A key part of it has been just remaining active. There's a lot of theaters that have only one or two shows a month. We have 14 or 15 shows just in October."
The theater has fielded a diverse range of talent this year alone, from the political satire troupe Capitol Steps to country music star John Hiatt. Future acts include Donna the Buffalo on Sunday, Michael Franti and Spearhead on Wednesday, Arlo Guthrie next Saturday and the Marshall Tucker Band in December.
Levine said Ithaca is a good place for groups like these to perform between major cities.
"We're a good stop," Levine said. "Rather than just twiddling your thumbs in a hotel room, you can stop and play a great show in a cool college town."
Further fixes and touch-ups are planned in the future as money becomes available. The theater has secured a grant from a charitable organization to redo damaged plaster work. The plaster ceiling under the marquee has been renovated, and the original ticket booth is back in operation. The theater also hopes to bring back movies with seasonal showings of films.
Smalls said the theater remains a cornerstone of the downtown area's economy.
"I look at it this way: the rising tide helps all the boats," Smalls said. "More visibility in terms of national acts brings more people into town. That helps the other arts organizations, the hotels, the restaurants. You can't walk around the restaurants within five blocks of the Commons and not see them full on a night the State has an act playing."
The theater also acts as space for members of the community to showcase their talent. Mike Garrett, the production manager of the theater, said in certain cases, the theater is the only space local aspiring artists have.
"We're not only a concert hall," Garrett said. "This is one of the premiere spaces for community groups to perform here in Ithaca."
Levine said throughout its history, the State Theatre has continued to give Ithaca an entertainment experience, even as ticket sales declined with the advent of television.
"I have people that will come up to me who are well into their fifties," Levine said. "They'll hold my hand and pull me over to a seat and say, 'This seat, right here! This is where I saw Star Wars.' So many people came here as kids and have fond memories. But also we're here to help make new memories for new people. We aren't going anywhere."