When looking for a lamp for the dorm room or a table for the kitchen, most buyers tend to avoid old, cluttered antique shops and head straight for plastic, manufactured items from a large store.
But Dan Quest, a partner of Found, a new antique store on Cherry Street in Ithaca, said his new business is not a typical antique shop.
"When you think of an antique shop you think of carved, dusty pieces, but this is very much different," Quest said. "It isn't your average place."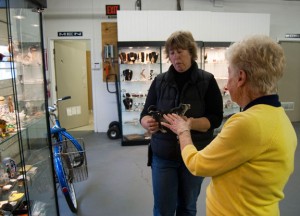 Found is the brainchild of Quest, Sandy Cozzarin, Bill Hastings '92 and Ken McKinney, all of whom found a passion in collecting and met each other as dealers in the Ithaca area. After searching for a site for several months, the four settled on their Cherry Street location near Wegmans and began 30 days of renovations. The store officially opened Aug. 28 but will celebrate its grand opening with raffles and giveaways Oct. 2.
From retro fans to an old wooden tool storage unit, Found offers a broad range of furniture, jewelry, vintage clothing, farmhouse antiques, collectables and artwork. Their prices range from $1 to $5 dollars at the cheapest, but some items can go up to more than $1,000.
Sandy Cozzarin, one of Found's four partners, said buying antiques isn't just for older people.
"It's cool to go to a friend's apartment and see that they don't have everything from a big-box store, that they have eclectic pieces and a cool pad," Cozzarin said. "To individualize yourself, that's really important these days."
Bill Hastings, another founder, is currently a lecturer in Ithaca College's Department of Art and plans to teach full time in the spring. As a student, Hastings took advertising and marketing classes and now uses these skills to handle the advertising aspects of the business.
"Having a love for art and art history draws me to the objects," Hastings said. "I love history, love thinking about material culture, the detritus of the every day. Not the castaway, throwaway garbage of everyday, but everyday objects and where they are placed historically."
Hastings said Found is the perfect spot for those looking for unusual and interesting gifts or college students searching for vintage clothing.
"For people that have the collecting bug … we have a tremendous amount of diversity," Hastings said.
Hastings said the place appeals to a wide range of people.
"We want a place where all demographics can come and find interesting things," Hastings said. "Students come back to town … [and] they may not want the run-of-the-mill that you can get at Target."
Unlike many antique shops, Found has an open floor plan, with its objects displayed in clean glass cases for customers to easily browse.
"It's not chock full of things," Quest said. "It's set up with that gallery setting where you can actually see individual pieces, and you're not overwhelmed visually by too much stuff. You can see how it would work into your home décor."
The store currently has 28 dealers, and the partners hope to reach full capacity with about 35 dealers to occupy a variety of booths and showcases. The store will also exhibit monthly gallery artwork from locals and display a seasonally changing furniture setup.
"Our goal is … a gallery aesthetic — airy, open, with enough room for people to meander and explore," Hastings said.
Besides its mission to sell an array of quality vintage items, the owners of Found said their business represents the classic mentality of "reuse-recycle." Because they deal with repurposed objects, Found reduces its carbon footprint by selling products that haven't been factory manufactured.
Quest said buying refinished pieces not only helps keep items fresh but is also economical and environmentally friendly.
"It's the original recycling," Quest said. "It really is affordable. There are fine antiques that you can spend thousands of dollars on, but $40 goes a long way. That's where it can appeal to all age groups."
So far the partners have been surprised with their steady business. They hope the future will bring curious customers who will explore and discover something interesting during each visit.
"I hope people will find that they won't see the same old merchandise here every time," Hastings said. "They say the best time to buy an antique is when you see it."
Found is located on 227 Cherry St. They are open from 10 a.m. to 6.p.m Wednesday to Monday.