Everything from painted wooden panels, landscaped canvasses and skateboard frames cover almost every inch of Ryan Curtis' studio. Whether this digital painter is using laser prints or leaves and sticks from his backyard, Curtis finds a way to make one cohesive thought that reflects his love for nature.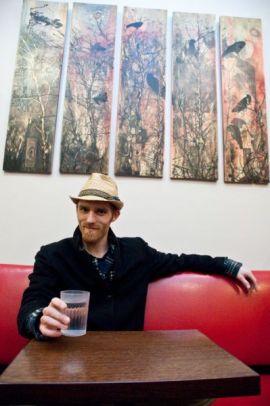 Curtis is currently showing his latest collection, "Water, Water Everywhere," at Gimme! Coffee on Cayuga Street. Saturday, Curtis will celebrate his collection with a musical performance from junior Daniel Frankhuizen, a cello performance major, from 5:30 to 7:30 p.m. Saturday morning Curtis will also be showing his collection at the Women's Community building from 11 a.m. to 5 p.m.
Frankhuizen will accompany Curtis' art at the opening Saturday with different genres of music. Curtis said art always goes better with music and he appreciates it more than some artists because he considers himself a closet musician.
"People always seem to enjoy looking at art more when there is something live going on," he said. "Dan is a good friend who is helping me out."
Frankhuizen said he noticed Curtis' appreciation for music when he first met him at the former ABC Café on Stewart Avenue two years ago.
"He was super outgoing and went out of his way to introduce himself, invite me to a jam session and eventually to the whole Ithaca music scene," Frankhuizen said.
Since then, Frankhuizen has helped Curtis find new ways to bring music and art together.
"Ryan has lots of potential for big ideas," Frankhuizen said. "He sees how art can work with music and creating an atmosphere that way by stimulating both visual and auditory senses."
Mimi Wysong, who coordinates the artists for Gimme! Coffee, said Curtis has been showing his work at the coffee shop for three years and is always welcomed back.
"People always like his work," she said. "He shows once a year, and we are lucky to have him."
Curtis' extensive process starts with taking hundreds of photos. Then he layers different images, making a collage in Photoshop. Once he makes an intricate design, he prints out his piece and presses it onto pieces of wood. To add to his designs, he then paints in color on top of the wood pieces.
The 30-year-old has found a niche in the Ithaca community. He has worked to integrate music into his art and collaborated with several local musicians developing art for album covers. Curtis said music is the most important element of his artwork.
"There is a musical component in art that exists," he said. "Music just has so many visual possible pictures. I'm really inspired by music than any other type of art."
After graduating with a BFA from SUNY-Purchase in 2001, Curtis had no idea where his art degree would take him. As a self-proclaimed "ski bum," Curtis sought to the slopes for creativity. He said he tries to find the beauty in nature almost anywhere. Curtis saw Ithaca as an up-and-coming community.
He said he doesn't want to get caught up in naming the type of art he makes. For him, seeing his artwork in person always results in a better reaction. He said he believes his art speaks for itself.
"I'm into image-making," he said. "I'm not a wordsmith. But if I had to, I would define my work as paintings that embrace collage with elements of photography and digital collage and spiritual psychedelic realms and landscapes."
Though Curtis may have trouble defining his style, making a lasting impression is not the problem. Ithaca resident Diana Doty, one of his fans, said she remembered Curtis from the Ithaca Apple Harvest Festival this year and made a point to see his work at the Greater Ithaca Art Trail with a shopping list. Doty said Curtis' art is perfect for a wellness clinic she is looking to develop because of the calming effect of Curtis' pieces.
"His art is physical, emotional and spiritual to me," she said. "It's multidimensional and multilevel. It's just compelling."
Doty said she left a happy customer promising to return with the goal of purchasing one of Curtis's larger-scale paintings. Curtis said making people smile is what he likes to do most, especially when they are looking at his art.
"I'm interested in a celebration of life, love and joy … responsibility and stewardship for the earth," he said. "Everything is for a good cause. I'm anti-war [and] anti-pollution. I want my work to speak of that, and hopefully, that will be the core of what I'm doing."
Curtis said he wants to expand the scope of his work into music shows, wearable art, body painting and even illustrating his own children's books. For Curtis, art doesn't depend on talent. It is exercising creativity.
"I have a suspicion that talent in art is a myth and no one is more talented than any other," he said. "It's about developing talents."