Sophomore Andrew Garcia adjusts the knobs and dials on his mixer as he inserts a CD. A thumping bass and a repeating synthetic melody fill his room Nov. 16 in Emerson Hall. Thanks to the tracks he bought online, he freely mixes and spins his own electronic music.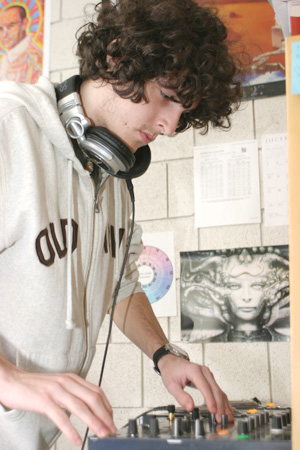 Garcia has been listening to Armin Van Buuren's and Sander Kleinenberg's electronic music since high school in Monteray, Mexico. Because his father is an executive for General Electric, Garcia's family has always been on the move, living in 11 countries. After experiencing the music scene in places like Germany, Spain and Italy, he decided to start mixing.
"[My family and I] happened to be going to Tahiti and we ended up in Australia, and I had no idea how big the electronic music scene was there," Garcia said. "It's huge. It's explosive."
Listen to a sample of Garcia's trance promo from this September.
During his freshman year, Garcia met other students in Ithaca who appreciated electronic music and decided it was time the community provided a bigger venue for both clubbers and mixers.
"Once we get a weekly show or weekly festival, the idea is to get a huge turnout and get more and more people turned on to [the music]," Garcia said.
He plans to turn his Facebook group, the Electronic Music Guild (EMG), into a full-fledged campus organization next semester.
The EMG would be a sister organization to Cornell University's Electronic Music Collective (EMC). Garcia and members from both groups meet weekly to share music.
Garcia said electronic music transcends geographic boundaries because of its global message of peace, love, unity and respect (PLUR). The culture of the genre, he added, is based on PLUR and freedom of speech through dance and music.
Electronic music comes from disco and electropop in the '70s, with the introduction of synthesizers into pop music. Styles like house, trance, techno and acid developed in the '80s, and synthesized sound moved from being a part of pop music to its own genre.
Cornell junior Adam Vana heads the EMC and has been collaborating with Garcia to expand Ithaca's electronic scene.
Like Garcia, Vana also said he sees the music and its corresponding culture with a worldwide connection.
"Electronic music has historically been free from race and class … and it can bring people together that you never thought it could bring together," Vana said.
As for the local electronic scene, the EMC and the EMG are taking it one event at a time.
Former student Lorenz Gabriel is a member of the EMC, and often invites Garcia to play at parties at his house in Ithaca. After getting a job in Chicago, Gabriel stopped attending the college, but still
involves himself in the local music scene. He said not enough people are interested in local artists, and it's important to get exposure.
"There's actually a really high demand for some sort of venue that plays either house music or trance music … something to dance to," Gabriel said. "That really works out on Andrew's end, because if he can market that music more thoroughly, there would definitely be a huge following."
Garcia said he hopes to market his music by starting up his own Web site, DJAndrewGarcia.com. He said having a personal domain can provide exclusive attention to him and his music in a way that other sites cannot.
As soon as the EMG is up and running, Garcia expects to host an event called "Displace This." All proceeds will go to the Iraqi Red Crescent for victims of the war. He said the show will provide exposure to the club as well as promote the idea of PLUR.
While self-promotion is desired, Garcia said electronic music focuses less on the artist and more on the music itself.
"It's about promoting equity and respect and love in general," Garcia said. "It's universal. Anyone who's into electronic music would know that."
Before meeting Garcia, sophomore Melissa Gordon had never given electronic music a second thought. After listening to him spin, she gained an appreciation for the genre. She's even beginning to learn how to mix, with his help.
"It's really cool to see somebody progress that much," Gordon said, who heard Garcia when he was just starting to mix. "First listening to it, then getting more into it and making the music."
Currently an exploratory student, Garcia plans to enter the communications management and design major, leaving his career options open. Though he said music is his passion, pursuing it as a career would take the fun out of it.
For now, he stands above his desk, one hand on his mixer and the other inserting a track to be spun.
"If you have a passion that you are absolutely in love with, it could be music, it could be art … whatever you're into, you want to share it with others," Garcia said. "This is a great way to do it."