Sophomore Erik Caron wasn't satisfied just playing music for fun. He wanted to take it a step further — by making his own CD in his makeshift home studio.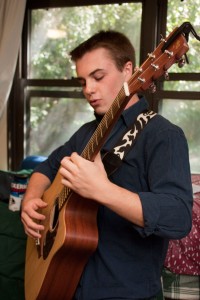 Caron, an exercise science major, is the lead singer of the band the Erik Caron Connection. He made his first album with fellow bandmates, drummer Patrick Dea and guitarist Jake Ford, in two months in a homemade recording studio. The first album,"Reflective Impressions," was released Sept. 1.
The beginnings of the Erik Caron Connection's first album began last year in Caron's Alton, N.H, home. Using Dea's desktop computer and the program Acoustica Mixcraft, the group started working. To record the album, they had MXL 990 microphones and made a control room lined with blankets.
Caron said even though they didn't have any professional producers for the album, they were still able to produce a good CD.
"With at least three different minds of ideas being poured into each song we were able to make a pretty good sound," he said.
Caron's interest in music goes back to when he was in a concert band in sixth grade, but he said he didn't become committed to music until he started playing the guitar.
"[I was] the little geeky kid with the trumpet," Caron said. "And then I picked up a guitar when I was 10, and I was like, 'Oh yeah, teen angst!'"
He said the guitar brought another level of commitment to music.
"It's a beautiful instrument that can be so diverse and unique to its player," Caron said. "It really allows for complete creativity and lots of expression."
Caron said the band's music is approachable for a wide audience.
"When you're listening to it, you're not bored," Caron said. "You can sing to it, like with 'Tender's Tale.' It's got some groove to it, and you know you're having fun."
The band has been together for three months. Dea has known Caron for 10 years, while Ford is a relatively new addition having only joined the band in July.
Ford said his experience with this band is unlike any other.
"I tried making music with so many others, and they always seemed to be missing something technically or musically, but these guys really made the music live and gave it that something that I still can't put my finger on," Ford said. "There's something that we all have that works."
Caron said the band's sound is mostly influenced by classic rock and acts like John Mayer, Dave Matthews Band and Jack Johnson. Caron said he became truly inspired to become an artist when he attended a John Mayer concert in February this year.
"I looked around and saw that this one dude and his feelings were fueling 20 to 30,000 people," Caron said.
While Caron studies in Ithaca, his bandmates stay in their native Alton. Ford goes to school at Lake Region Community College and Dea works full-time. Ford said the distance isn't much of a problem, though.
"It's really not that bad," Ford said. "The album is already finished, so we can just practice on our own. It also gives me time to catch up."
Sophomore Katie Ortel, who has known Caron for a year, said she likes his music because of the lyrics and its easy-going style.
"The music incorporates a creative sound and is energetic with realistic, down-to-earth lyrics," she said. "It's fun and definitely good music to just chill to."
So far, the CD has sold one digital download and about 75 hard copies.
As for the band's current popularity, Dea said he couldn't have predicted he would be in this position.
"I never imagined I would really put out an actual CD with a booklet or anything," Dea said.
Ford said he was not expecting the kind of positive reaction they have received.
"It's been really surprising," Ford said. "It seems to have taken off really quick. Everything's been pretty positive so far, how people have latched on to it."
Caron said in the future he hopes to attain the same kind of success his idols have reached.
"I would love it if someone came up to me and said that they could really connect with one of the songs," Caron said.
He said the band already has plans to make another album, but they're missing one element.
"We already have a bunch of songs ready," Caron said. "And we're looking for a bass player."
The Erik Caron Connection's first album, "Reflective Impressions," is available on iTunes. It is also available in different hard copy versions for $2, $5, or $10 from Caron.