Surrounded by speakers, computers and recording devices, sophomore Ted Rosedale strummed an acoustic guitar and sang melodies in a somewhat cluttered control room last month at Ithaca's Pyramid Sound Recording Studios.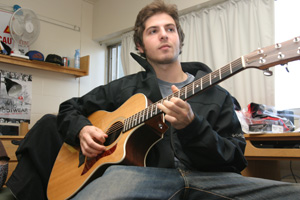 Alex Perialas, a studio producer and lecturer of music theory, history and composition, worked the boards as Mike Parker, a studio musician, recorded the drum track for Rosedale's song "Perfect Girl." The upbeat tune has roots in '70s rock 'n' roll.
A natural chemistry sparks creation and inspiration, not only for this song, but also for the others on Rosedale's album, "Home," which was released online in November.
Rosedale's "Don't Be Long":
"I always have a song stuck in my head, and sometimes I can't figure out what it is," Rosedale said. "When I was little I would lie in my bed at nighttime, … I'd actually write songs. I'd sing melodies that I knew weren't songs, and I wish I could have recorded them."
Rosedale, a business administration major from Long Island, was born into a musical family: His mother plays piano, and his father plays guitar. It was only natural for him to pick up the habit.
Rosedale's father, Michael, also his manager, played an integral part in his musical education, giving him his first drum around the age of 3 or 4 and teaching him guitar through The Beatles.
"It was forced on me, but in a good way," Ted Rosedale said.
Rosedale is signed to Nest Egg Music Corp., an independent label based in New York City. Nest Egg found Rosedale online and e-mailed him. Michael Rosedale then contacted Nest Egg and found that Nest Egg was new and looking for new talent. Nest Egg marketed Rosedale's music online through Web sites like PureVolume and iTunes.
"[With] Nest Egg Music … it's like a new way of doing things," Ted Rosedale said. "They're trying to market me a different way, and I'm kind of a guinea pig."
Rosedale's "Unforgettable":
Rosedale also plays the piano, bass guitar, ukulele and violin. If he got the chance, he said he would like to learn the saxophone and cello or upright bass.
In fourth grade, Rosedale started playing with his best friend Dan Roberts (now a sophomore at Duke University). Rosedale's father taught him Beatles' songs on guitar, and Rosedale brought them to Roberts. Eventually they both knew the songs and recorded them in Rosedale's basement. Roberts also played on a few songs on "Home."
Roberts said he knew that Rosedale was always a tremendous musician and told him that he needed to start writing his own music.
"He's an entirely proficient songwriter, and he comes to me for an opinion rather than true collaborative effort," Roberts said.
Rosedale wrote his first song in 10th grade. He likes to write "catchy rock songs," but he doesn't limit himself to one genre.
"I write various styles of music," he said. "I could write classical styles of music. I could write pop music or rock music. I write whatever I feel like writing. I'm not stuck in one style."
Perialas respects Rosedale and is impressed by the originality of his songs.
"[Rosedale's] doing something that's really different than most kids his age," Perialas said. "He really gravitates towards the old '70s style of like The Beatles and old Eagles."
Rosedale's "Green":
Perialas said when he went on a father-son motorcycle-race trip in Ohio and put on Rosedale's CD, everyone there, anywhere from 18 to 60 years old, enjoyed it.
"It's interesting to see that he's bridged sort of a generational gap of stuff that we all used to listen to when we were growing up and stuff that I think a lot of [college kids] haven't really listened to a lot unless you've been exposed to it," he said.
And like any singer/songwriter hoping to make it big, Rosedale is looking for exposure.
"I hope to get millions of fans, sell millions of CDs, play thousands of concerts," Rosedale said. "I want to gain a lot of exposure, not that I want to be famous … fame wouldn't hurt … but I do want people to like my music."