There is a line that has been created between music and noise. Music is typically referred to as organized sound, and noise is often considered unwanted. Sophomore Chris Knight is trying to tie the two together as one.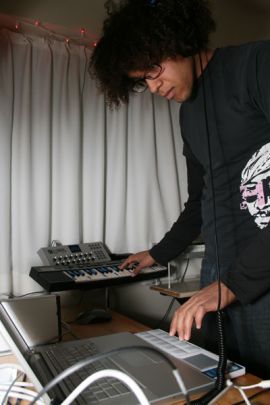 "What I'm trying to do is … allow for a more open perception of what is and isn't music, what is and isn't art," Knight said. "I'm trying to bridge the gap between what's considered noise and what's considered music."
Knight, a television-radio major, uses static noises, layered echoing and tranquil, airy sounds to create ambient music. He produced a full-length album "The Digital City," in October and recently released a new track, "Forgive Me, Phillip." Knight said he believes any sound can be music — it is just a matter of how the listener interprets it.
Knight initially began experimenting with sound a year and a half ago, which evolved into the ambient music he creates now. Ambient music often flows between the conscious and subconscious and is often used as background music and for meditation. The genre focuses more on the sound being produced than on the notes themselves. Knight uses snippets of sound from other songs and digitally rearranges them to create his original music — similar to the approach electronica musicians rely on.
To generate his strikingly strange yet appealing songs, Knight uses his laptop as a musical instrument using the music program Ableton Live. He said sometimes he finishes the arrangement of a song in one sitting, but other times the process can take up to a few weeks. The album took about three months to complete.
"There are a lot of people who just sit on their laptop and push one button, but I feel like a laptop can be like any other musical instrument," Knight said. "You can't pick up a clarinet and make a beautiful song just like that, and you can't do that with a laptop either."
Knight credits his musical ear to his upbringing. He said his father, a classically trained musician, introduced him to instrumental music with no lyrics and operas in different languages. He said this has driven him to listen more closely to the sound and instrumentation in music — rather than lyrics and notes — from a young age.
He releases his music under the Creative Commons License, which allows listeners to legally share his work and manipulate it to create new music. Knight said he isn't interested in making money from his music — he just wants people to be able to listen.
In naming the tracks, Knight said he tries to make them reflective of the larger idea of each song.
"I may as well call my songs 'song one,' 'song two,' "song three,' etc.," he said. "But assigning a few words to a song makes it a lot easier to distinguish one song from another song."
Knight collaborated with a musically inclined friend, junior Greg "Charlieboy" Miller, to create a serene yet chaotic track "Something that was Always Nothing" in December. The musicians never once sat down together to collaborate face-to-face. Miller sent Knight his portion over the Internet, and Knight arranged them with his own to create the whole.
"He was the binding agent in this sandwich that is the final product," Miller said. "I provided him with a couple of strings, and he came up with a tapestry."
Knight will play his first live show at 9 p.m. Saturday at ABC Café, opening for Zs and American Sphinx for an $8 cover. He secured a spot in the lineup through Ithaca Underground, a local concert planning group. Its founder, Bubba Crumine, said the group aims to support young artists like Knight.
"We have been focused mainly on keeping the shows all-ages because the younger musician scene is thriving, and they need a place to play," Crumine said.
The show will mark the transition of Knight's music from the Internet to the stage, where he will deliver tracks from "The Digital City" to a live audience for the first time. He has a set of sound effects he plans to use, but he will improvise them during the performance.
"The ultimate goal is to have my audience swimming in an ocean of sound that doesn't resemble the source at all," Knight said.
Knight's music is available for download at www.myspace.com/ckthedigitalcity. For more information about Ithaca Underground, go to www.ithacaunderground.blogspot.com.