Next week, members of the Global Poverty Project will drive their decorated tour van to Ithaca to challenge students to live like 1.4 billion people around the world — with less than $1.25 per day.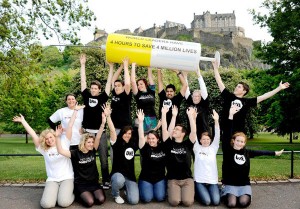 Danielle Goldschneider, a member of the Global Poverty Project, an organization that works to help eradicate extreme poverty, will present "1.4 Billion Reasons," an interactive presentation meant to raise awareness about the estimated 1.4 billion people living without adequate resources to survive, Feb. 20 at Cornell University. Goldschneider and other members of the organization travel around the country raising money for people in need. Admission is free and open to the public.
Accent Editor Shea O'Meara spoke with Goldschneider about her work with the Global Poverty Project, her inspiration for joining the organization and her upcoming presentation at Cornell.
Shea O'Meara: What is the mission of the Global Poverty Project?
Danielle Goldschneider: Our goal is to eliminate extreme poverty in a generation. Extreme poverty is defined as living with less than or at $1.25 a day, which is about enough to buy two bowls of rice. Our goal is to help the 1.4 billion people who are living in this type of poverty achieve a stable way of life and give them the resources they need.
SO: What can students expect from your trip to Ithaca?
DG: We give a presentation called "1.4 Billion Reasons" that explains the economics behind extreme poverty and the different issues that happen in the developing world. It helps people become more aware of these issues, and it invites audiences to participate in our Live Below the Line campaign, which raises money for our partner charity.
SO: How can students get involved with the project?
DG: Live Below the Line is a five-day challenge where participants agree to live on $1.50 a day for five days. Each day they are able to do that, they fundraise for our partner charities. We're doing fundraising for children's preventable deaths, so we're fundraising for vaccines in developing worlds. Even if you're only able to raise five dollars, that's literally five vaccines that you've purchased and you've just saved the lives of five children who could have potentially died of horrible diseases like malaria or cholera or diseases that are entirely preventable.
SO: What is working and traveling with the other Global Poverty Project advocates like?
DG: We try to keep it lighthearted. Meg, [one of the members] even though she lived in Malawi and she's seen a lot of extreme poverty, she also has
hilarious experiences with students asking her about Lady Gaga lyrics and what their translation was in English. As much as we talk about global poverty and issues that are important to each one of us, we also try to make it lighthearted and share experiences that make each other laugh. That's what we're all about, common humanity. That's what we're trying to portray in our presentation. We're all on one planet — common humanity.
SO: How successful has the project been in achieving its goals?
DG: We were able to raise $118 million for vaccinations for polio. India this past year has just announced that they've been free of polio for over a year. Polio is a completely preventable disease and it's been wiped out for a large part of the world, but there are still countries that are [endemic], like Afghanistan, where it's not uncommon to get polio. That's just absurd, and it's a shame.
SO: What can students expect from the presentation?
DG: It's a lot of fun. You're not going to come to the presentation and be depressed — that's not what the Global Poverty Project is about. This is a real problem that we can fix, and it's upbeat, and it's exciting.