Intense masks and exaggerated gestures helped bring classical Greek characters like Creon from "Antigone" and Clytemnestra from "Electra" back to life last Wednesday in the Clark Theatre, as a group of acting students diverged from contemporary techniques to perform "Great Speeches from Great Plays."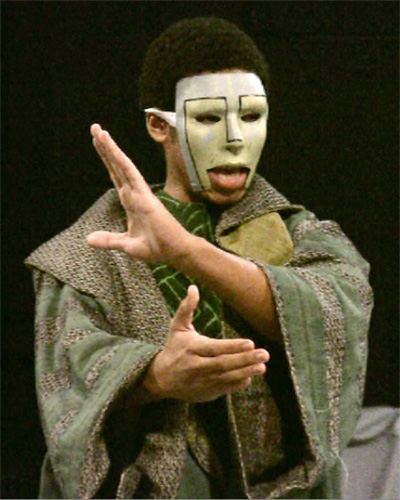 The 10-student class of juniors and seniors spent the first block of the semester learning about traditional Greek acting styles from Greg Bostwick, professor of theater arts.
"They've had two years of realistic acting technique, so now we introduce them to classical," Bostwick said.
The performance served as the culmination of the Styles of Acting class, which focused on the history of Greek theater and an in-depth study of the acting form. Next, the class will move on to study Shakespearean acting.
Junior Meredith Beck, who played Polyxena from "Hecuba," said she had never performed such a specific and demanding piece before.
"We were all nervous about it because Greek is so stylized," Beck said. "It's completely unlike anything I've ever encountered before."
The class began with students studying and enacting Greek rituals and progressed to monologues as the semester advanced.
"The gradual way [Bostwick] worked on it with us, it really made it so much easier than I think any of us anticipated," Beck said.
Since students do not encounter specific Greek training at Ithaca College outside this class, many were unfamiliar with these techniques. Junior Max Lawrence, who performed as Menelaus from "Iphigenia at Aulis," said Bostwick did his best to help the students understand.
"He just really has a dedication to this kind of theater," Lawrence said. "You can see it in his eyes when he's explaining something. He really wants you to understand how rich and deep and how full this particular style of acting is."
The class learned how to express the intense emotions felt in the plays' extreme situations by using their entire bodies.
"In order to convey the meaning to the audience, you use every single drop of energy that you can to make sure that the audience understands just how critical your situation is," Lawrence said.
As part of the preparation for the performance, Bostwick took the class out to the pond by Muller Chapel and had them perform their monologues outdoors — just as the Greeks did.
"It just frees them up," Bostwick said. "It makes them bigger."
The point of the exercise was to experience performing in a much larger arena while still being able to express emotions with the same authority.
"We were really dealing with factors the Greeks had to deal with," Beck said. "We really had to be resonant. I had the wind blowing all in my face, and there were geese being really loud."
In Ancient Greece, the students learned, everything was expressed with exagerated power and emotion. Senior Jared Zirilli, who played Achilles, said this importance is different than today's acting.
"Nothing is a throw-away line," Zirilli said. "Every line has to be heavy."
Students wore self-designed masks based on their individual character and said the masks enabled them to become someone new. A live audience was another element thrown into the performance.
"Having the audience there, it gives [me] that little nervous tinge, but I take it and use it as urgency in my monologue," Zirilli said.
Bostwick said he thought the performance went very well.
"I wasn't surprised by how it went today," he said. "They enjoyed the material, [and] they've worked hard on it."
Though the students said they were nervous, junior Nick Caycedo thought the class enjoyed the experience.
"I think a lot of people came a long way from where they were and that showed they have an initial grasp on Greek tragedy,"
Caycedo said. "I learned how to be grounded, how to use my body in a way foreign to me before this."
Bostwick has been going through this process with students for many years and said he will continue the class because of how much students learn from it.
"I was terrified of this experience, but it ended up being amazing," Beck said.