Many people conceal their inner pop-star personas from the public eye. Common hiding places include driver's seats, locked bedrooms and steamy showers. But on May 1, many of Ithaca College's wannabe Britneys and Justins will put down their improvised microphones and display their talents on campus.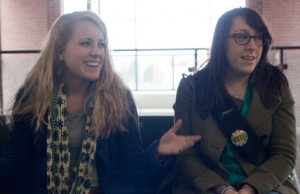 The Student Government and Residence Hall associations are collaborating to strengthen school spirit by creating a '90s-themed lip dub video. Lip dubs feature people lip-synching to a particular song. The actual track is laid over video footage to create the illusion that participants are actually singing.
More than 350 students signed up to participate in the college's lip dub. They are now practicing their song segments, which include '90s mainstays such as the Backstreet Boys' "Everybody," the Spice Girls' "Wannabe" and Eiffel 65's "Blue."
The route will start at Textor Ball, run through Campus Center and end at the Dillingham fountains where participants will form a human "IC."
Sophomore Rob Flaherty, SGA's Park School senator, is the director of the video shoot. His job is to make sure the video adheres to traditional lip dub aesthetics.
"It's my artistic vision, according to the job description," Flaherty said. "I'm making sure all of the people have a section, that it's all very consistent and it fits the general look."
Lip dubs are filmed in a single shot, letting the camera roll for the song's duration without any breaks. Flaherty said it has been a challenge spreading the word to get more students involved, which is essential for this technique.
"On the Facebook page we've got 370-something people who are interested, and we have about that many signed up," he said. "But to make the video look good, there's got to be about 500 people."
Sophomore Nate McCoart, lip dub producer, said the production costs are currently budgeted for $2,000. He said the group has reached out to the campus community to help secure more funds to create the video.
"It's dependent upon what funding we can secure," he said. "We're doing what we can to reach what we need, but it's getting down to the wire."
Junior Sheraz Iqbal, president of RHA, said unity and entertainment motivated the video's creation.
"It's a nice, fun way to end the year with everyone getting together and just going crazy," he said. "We're telling people to come in with any skills they [have] or any performances they want to do."
The video's original purpose was to generate excitement on campus, but it may also help market the college to prospective students.
Senior Julia Dunn, SGA's vice president of communications, said SGA and RHA are working with David Cameron, a web coordinator in the Office of Marketing Communications, for advising in the planning stages.
Cameron said he did not want to control the lip dub but was there for assistance if needed. He stressed the importance of the lip dub project being entirely student-run.
"A lot of us in marketing have been hoping to have students do a video like this, but we didn't want to do it," he said. "It's more real if the students do it all themselves."
Dunn said preparations for large events often encounter problems, and the lip dub is no different. She said  Ithaca's notoriously unpredictable weather may be the biggest threat the group will face the day of the shoot.
"We've had so many challenges setting the actual date and booking the route across campus that if it rains, it's going to be a large obstacle," she said.
If the weather doesn't cooperate, Dunn said the group will have to put off filming the lip dub until the fall.
But if all goes as planned, the man capturing the moment will be sophomore Wade Ferrari, a cinema and photography major. He owns a Steadicam, which uses pneumatic springs that compensate for body movement to capture a smooth shot. Ferrari said Steadicam operators are rare in the Ithaca-Syracuse area because of the sizeable financial investment and time commitment to the art.
"I am the only Steadicam operator on campus," he said. "I happen to be really good friends with Rob Flaherty, so he approached me and knew that I already had the rig."
Ferrari said he thinks the technical portions of the shoot will be difficult because of lip dub's specific style.
"Most Steadicam shots are at max a minute, and we're doing between a nine- to 12-minute straight shot," he said. "That's going to be the biggest challenge for me."
If all goes well, Iqbal said the lip dub video will give students a chance to have fun while getting a behind-the-scenes peek at the process of viral video production.
"It's one thing to watch the video, but it's another thing to be a part of it and see how it's made," Iqbal said.