After growing up in one of the biggest cities in the world, sophomore Max Samis decided to come to Ithaca College — but not without bringing a little bit of his New York City home to Central New York.
"Right now, as it stands, I am 19 years old, and I've officially started my own business," he said.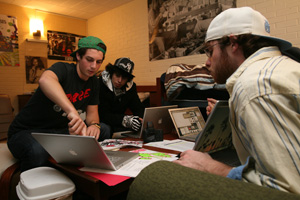 Boulevard NYC, the company created by Samis and four other Ithaca College sophomores — Ryan Gandell, Sam Fanburg, Will Reilly and Ian Kaye — aims to bring a big-city feel to the Ithaca community. The five sophomores have been holding design meetings since last year and have talked to local Ithaca businesses in hopes of going into business together. Samis hopes to work with local hot spots to throw parties like those found in New York City that benefit causes and display art and photography.
Because of Samis' love of fashion photography, he said one of the coolest parts of Boulevard NYC is the clothing line. Initially designed to be a sub-product of the parties the company plans to throw, Samis said he has some great ideas about taking fashion one step further in his company.
"The clothing line has become my passion more than anyone else's," Samis said.
"I've always done photography and Web/graphic design as hobbies of my own, and I've always wanted to mix them together. … The clothing label is a real deal for me."
Reilly, a member of the company, said the group's plans are based on other successful companies and clothing lines.
"Clothing companies like Lola and Reason were just a bunch of friends who worked together to create something that they all liked and could wear," he said. "For me, this was the appealing factor of Boulevard."
Samis said he hopes to release five shirts as Boulevard NYC's first line this winter. Plans to expand the line from T-shirts to hoodies, hats and other apparel are also in progress.
"I have always had the idea that I wanted to start my own business," Samis said. "I was surrounded with enough kids [at Ithaca College] that I could actively pursue an idea like this."
The students convinced their parents to be the company's initial investors after presenting a working business plan. The five now have a unique opportunity: They get to stay in school while working on a project that will hopefully continue after they finish college.
"My mom's been real supportive," Samis said. "I've always been the type of kid that's had cool, great ideas, but this is the first thing I have ever really followed through with."
Boulevard NYC has its own lawyer, accountant and monthly taxes to pay to the IRS.
"Originally, we were going to do it all under the table," Samis said. "But then I thought, why not make it the real deal, and why not be able to collaborate with other people?"
The men plan on working from New York City in the summer, and, if the opportunity arises, staying in Ithaca after graduation to keep the company going.
Andrew Douglas, owner of Homegrown Board Shop on The Commons, has already agreed to stock Boulevard NYC apparel.
"I think Max and I have the same ideas for this town," Douglas said. "Ithaca isn't up to speed with a lot of other cities, especially New York City, and I think Ithaca has some great potential."
Participation in the company isn't limited to its founders. Samis said he wants to include everyone with a passion for the arts, design or business. He said Boulevard NYC isn't just about the five original students — it's about creating a community where talent is put to good use.
"We want to build a family," Samis said. "We want to present the image that anyone can be involved in it if they have something to offer. If you're a photographer or a journalist and you want to do something with Boulevard, then just bring it to us and we would be happy to incorporate it."
Kaye, creative director and designer for Boulevard NYC, said though he has a lot of responsibility, the best part about the group is just being with his friends.
"We're all in this together," he said. "It would be nice to turn a profit and make some money, but if not, I could just have a great time doing it with my friends."
For more on Boulevard NYC, check out its Web site at www.boulevardnyc.com.