Leafing through the program for IC Players' new show, the playwrights' names might seem familiar. It's not because of their fame or past works, but rather it's because all six one-acts were written by students.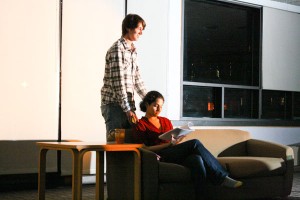 For student playwrights, getting their unknown, unpublished plays performed in a professional setting can often be a difficult task. But five budding playwrights will get the chance to have their work presented onstage thanks to IC Players' new show, "Best in Show Showcase: A One-Act Festival."
Andres Ordorica, advertising executive for IC Players, said he and another board member came up with the idea for a one-act festival last fall. He said he hopes it will become an annual event.
"We knew we wanted to do something new with the group," he said. "We thought it would be interesting to try out a festival of one-acts, and that turned into a festival dedicated to student-written work."
The showcase offers student authors, directors, actors and stage managers the chance to work together in an entirely student-run production. The IC Players board selected the one-acts from submissions and then held interviews to pick directors who, in turn, cast the shows.
"One of the main goals of the showcase is to give an opportunity to people to present their work," Ordorica said. "People can get intimidated to showcase their work, or to take on the responsibility of directing a student-original work, so we just wanted to offer the opportunity to students to do both."
Freshman Jordan Reiff is a student playwright who has two scripts in the festival. While this is not Reiff's first time seeing plays he has written performed, he said it was a different experience to have his peers work on his scripts.
"It's always exciting, but also incredibly nerve-racking and really a very humbling experience to get to see people rehearse and analyze the stuff I wrote," he said.
Reiff said the process of workshopping the scripts also really helped him grow as a writer.
"The cool thing about playwriting is that you have to think about how things are going to sound onstage and not just how they look on the page," he said. "When I do get to watch my work be rehearsed and performed I try my best to re-evaluate it and figure out what things aren't working and what things are working."
Sophomore Alison Ehrenreich is directing one of the one-acts, and said this was a good fit for her first time directing because she was able to ask the playwright questions.
"It's a dream come true to work directly with the playwright," she said. "It's not a guessing game to figure out what they intended."
Reiff said he is also looking forward to watching his plays and seeing how others interpret his work.
"I'll be interested to see what [the director] finds and what the actors find in the script that I didn't even know was there," he said. "I'm sure I'm going to be surprised by something."
For sophomore Melanie Sherman, acting in the showcase has given her the chance to learn about the character she's playing. She said because her one-act is only 10 minutes long, she was able to work with her director and the playwright to explore more about the character beyond the scene.
"I can really dive into the character," she said. "I have to give her this life around the play, and it's great to have the playwright there to talk to about what he intended for the characters."
Ordorica said with the quality of the writing and the dedicated effort everyone has put into the show, people should expect a festival that showcases the talents of many of the college's students.
"For most people, the idea that there could be these 18-, 19-, 20-year-olds who identify themselves as writers is something that is just so foreign," he said. "Yes, they're young and early in their careers, but what they have to say is viable, and the work they have to offer is worthy of being shown and seen."
In the future, Ordorica hopes to expand the showcase, including a writer's workshop group for student playwrights and longer one-acts or even a full-length play.
"It's always our hope at IC Players to grow and expand and give that opportunity to any student, no matter what their major is," he said. "We just offer the support to continue practicing and participating in theater."