The first thing to keep in mind about wine culture: Wine people make grape lovers. And not table grapes, but wine grapes, which aren't sold at Wegmans.
According to Jeff Houck, one of the owners of Lucas Vineyards along Route 89, a good grape makes all the difference in the world.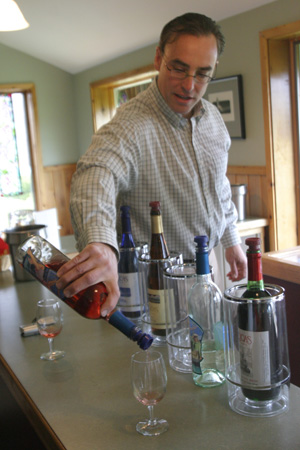 "Wine grapes are very different than table grapes," said Houck, husband of Stephanie Lucas Houck, who inherited the winery from her parents. "I actually love wine grapes for eating. … They're more complex."
The richer, more complex grapes are the key to winemaking. And the quality depends on everything from the climate to the soil. It takes three to five years for a vineyard even to produce grapes that can be turned into wine.
The Finger Lakes region is known for its whites, notably its Chardonnays and Rieslings. "The crown jewel of the Finger Lakes," according to Jeff Houck, Rieslings are made from the grape of the same name, and the area's climate makes it ideal for growing them.
"Everybody knows about Finger Lakes Riesling," Houck said.
With 16 vineyards lining Cayuga Lake, the Finger Lakes wine region has flourished since the late 1970s, when many family-owned vineyards opened. In 1976, the New York State Legislature passed the Farm Winery Act, which lowered taxes and licensing fees, encouraging a smaller scale of wine operations, similar to the growth of boutique wineries in California. Wineries were now able to sell directly to consumers, stores and restaurants without going through a distributor.
Unlike in California or France, the vineyards along Cayuga Lake cater to a range of tasters, from connoisseurs to amateurs. Which brings us to the second thing: Anyone can enjoy the Cayuga Lake Wine Trail.
Every year, the Cornell University chapter of the Kappa Delta sorority takes a wine tour during parents' weekend. A couple of Saturdays ago at Lucas Vineyards, three school-bus loads of sorority sisters and their parents crowded inside the window-lined tasting room. Cornell sophomore Corinne Rico, and her mother, Emily, standing at one of four bars, shared a glass smudged with lip prints while Houck explained the Lucas selection. He went from the driest, their Chardonnay 2005, to the sweetest, "Tug Boat Red."
"I liked 'The Blues' and the semi-dry Riesling 2005," Rico said. "They're white wines, but not especially dry. They're sweeter."
Great for entertaining, "The Blues" is one of two commemorative wines for the Ithaca College Class of 2007. The second, "Tug Boat Red," is the 30-acre Lucas Vineyards' most popular wine. It makes up half of the 20,000 cases of wine sold a year — a jump from the 200 cases sold during Lucas' first year in 1980.
Lucas also makes wines with a nautical theme, a tribute to Stephanie Lucas Houck's father, who was a tugboat captain. They like to have fun, hence wines like "Miss Adventurous" (a blush) and "Miss Behavin'" (a white).
Themed wines are not uncommon. Drive north on Route 89 past Lucas to Knapp Winery and Restaurant, which has a line of three "Kat Knapp" wines — not to mention a real tabby, Mama Kitty, who lounges on the floor.
Formerly owned by Doug and Suzie Knapp, the winery was bought by Gene Pierce when the Knapps retired. The winery includes a restaurant and two large tasting rooms, one of which is lined with a couple dozen oak barrels and white Christmas lights. Pierce said Knapp tries to cater to the individual.
"Some people want to learn, and we're happy to teach them," Pierce said. "Other people just want to have a good time."
Knapp specializes in whites — you can try six at a tasting for $1 — but since Knapp also has a still, they sell brandies and ports.
Making good reds among the Finger Lakes isn't impossible, it just takes the right conditions. In theory, the jet stream, moving from west to east, makes the east side of the lake the warmer shore. Warmer climates make it easier to produce reds.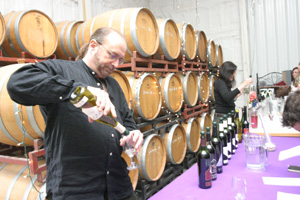 Gary Barletta, owner of Long Point Winery, one of two active wineries on the east side of the lake, specializes in dry reds. He's known for his Merlot, Syrah, Zinfandel and Cabernet Franc. He makes good reds not only because of the warmer shore, but also because some of his grapes come from the West Coast.
For 23 years, Barletta worked as an amateur winemaker, perfecting his reds and whites, until his wife made him a deal: Win a gold medal for his whites and she'll consider opening a winery. In 1998, the American Wine Society Competition awarded Barletta a gold medal for his Chardonnay, and by 2000, Long Point Winery opened its doors.
"So I held her to the bet," he said.
And now to the third thing to know about wine culture: What you taste in the wine — and what you like — depends on your palate. Houck said just because a wine might be described as having certain flavors, doesn't mean everyone will taste them.
"Whatever you taste is valid, whether it's the same thing I taste or not," he said.
Really, for Lucas — and for many in the region — wine tasting is about changing people's misconceptions about wine culture.
"For a lot of people, wine is kind of an intimidating beverage," Houck said. "We're not trying to make you like what we make, but find something that we make that you like."
In the Finger Lakes, no winemaker will be offended if you don't like their drinks — they just want you to enjoy the experience. After all, you always feel better after you wine a little.