It is not quite a public gallery. It is not quite a workshop. The Ink Shop, nestled into State Street on the second floor of the Community School of Music and Arts building, is a medley of the two — a gallery-workshop hybrid where the artists exhibit art while simultaneously producing their own works.
Inside the confines of the studio, Judy Barringer, co-president of The Ink Shop, comes out from behind her desk. Being with The Ink Shop since 1999, Barringer describes The Ink Shop's unconventional fusion of studio and gallery.
"It is a working gallery," Barringer said.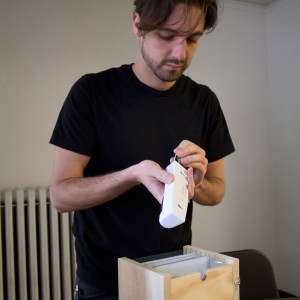 The Ink Shop is a long, white studio. Prints adorn the walls, and in the back resident artists are busying away on printing presses. There is a range of artists within the working gallery, each producing their own portfolios of work.
Barringer walks over to a cluster of small prints framed on the wall, just a few of the pieces that make up the 17th Mini-Print International Exhibition.
This biennial exhibit exclusively features prints all no larger than four inches by four inches and has been doing so for 34 years. The Ink Shop is but one stop for the touring exhibit, housing the petite bits of design on its walls.
Anita Hunt's "Vees II," an olive-tinted dreamscape of a print that is as serene as it is surreal, depicts no more than a grouping of stick-like figures. Just a few feet away, Charles Heasley's "Snow," a solemn photogravure, depicts the elegant sloping lines of a violin. Both pieces pack a sensory punch despite their small size.
In addition to the 17th Mini-Print International Exhibition, The Ink Shop is currently showing "Light Swallower," an exhibit of work by Roberto Silva-Ortiz.
Silva-Ortiz is the 2012 H. Peter Khan Family Fellow, a memorial fellowship that The Ink Shop gives to one individual a year. With this title, he has the opportunity to utilize The Ink Shop to produce his own body of work. Heading downstairs, he approaches the main gallery room where "Light Swallower" is on display.
"'Light Swallower' is a literal translation of skylight," Silva-Ortiz said. "In Spanish it's tragaluz, it swallows the light. It's a metaphor of the human condition of understanding the world by swallowing light."
Illustrating this concept is a notable piece, "Corpus." It's a digital photograph, depicting a marketplace scene. The market keeper stands across from his exact likeness, a mirror image; the scene reflects over its y-axis, creating an almost kaleidoscopic view. The lighting has been manipulated, illuminating the scene with neon and pastel hues.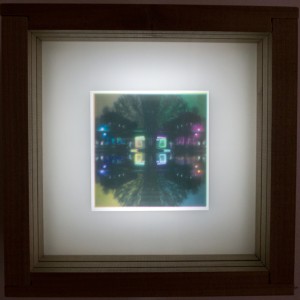 "I'm celebrating artificial light completely," Silva-Ortiz said.
With this considered, viewers may easily recognize how he emphasizes his theme. The prints and tapestries, even in their abstract nature, play upon the presence of light. Positive and negative space is achieved in pieces as light and dark hues mingle.
Silva-Ortiz walked to "State Street," a striking series of prints. Placed corner to corner, the four individual pieces depict Ithaca's State Street in stark monochrome, reflected on its x-axis.
The piece is an amalgam of the themes displayed in "Light Swallower" — jumping from print to print, color bleeds in like emerging light. Along with the negative space from the black-and-white palette, the piece emphasizes the appreciation Silva-Ortiz has for light.
"Artificial light these days is the thing that led us to knowledge." Silva-Ortiz said.
Both "Light Swallower" and the Mini-Print International Exhibition will be on display at The Ink Shop until Oct. 26. After, Silva-Ortiz plans to move his work to Puerto Rico, hoping to have it shown there by December.
Back in the main studio, Pamela Drix operates a printing press. Drix, a local artist, is one of the co-founders of The Ink Shop and teaches printmaking at Ithaca College.
On the press lies a work in progress, which Drix calls "The Sky is Pink." The piece, a series of prints, is a protest against hydraulic fracturing, a process of natural gas extraction.
Artificial light these days is the thing that led us to knowledge. – Roberto Silva-Ortiz
Her prints depict the fracturing pumps in a gritty, charcoal palette. The apparatuses are printed in a gray, looking akin to shadows on a black background. The dark foundation gives a sense of dread to the pieces.
"You know, there's that phrase 'The sky is pink!,' and if you say it often enough people will start believing it," Drix said. "You can call it pink, but it will never will be pink. You can call the natural gas industry clean, but it will never be clean. That's what this piece is about."
The Ink Shop has an upcoming gallery night reception Oct. 5. In addition, the public can visit The Ink Shop Tuesday through Saturday, within the studio's visiting hours, Tuesday to Friday 12 p.m. to 6 p.m. and Saturday 12 p.m. to 4 p.m.
The Ink Shop at its core is a space for artists to create and share their art. For Silva-Ortiz it will continue to be a haven for his creativity.
"The Ink Shop is a very nice place to work," Silva-Ortiz said. "There's a lot of creative people, and they encourage young artists to keep working and give the tools and the basics of development in any artist."