Inside the Hoerner in the Dillingham Center, "The Last Night of Ballyhoo" is somewhere in its first act. It's a fairly lavish production playing to a nearly sold-out crowd, dressed with ushers, advertisement-bearing programs and intricate lighting.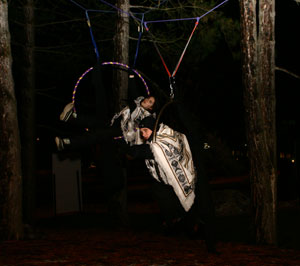 In the Dillingham lobby, something else is happening. A small crew of dedicated theater students is rehearsing quietly, opening and closing the wooden doors with discretion and practicing blocking on the same steps the audience of "Ballyhoo" marched up minutes before.
Enter "Macbeth," an entirely student-run production funded out of its cast's pockets and fueled by the desire to put on a different type of show. As its posters proclaim, this "theatrical experiment" puts an unexpected spin on Shakespeare's classic: The production uses entirely "found" spaces on campus, moving around to various locations in Dillingham and its surroundings as the audience follows the action of the story — both cerebrally and on foot. The mastermind behind the production, senior Erin Callahan, said she wanted to try something different and "get out of the studios."
"I just decided to embrace the nasty weather and see what we could do," Callahan said.
Callahan had originally devised the idea for a Shakespeare production using nontraditional spaces earlier this semester, noticing the lack of Shakespeare performed on campus. It was only after closer scrutiny that she decided on "Macbeth."
"I think there are many elements in the play that happen to involve fate and nature," she said.
Callahan said she also chose "Macbeth" for its unique atmosphere — and the ability to evoke this atmosphere using the campus itself.
"Macbeth tries to create an artificial world for himself," she said. "And I sort of think Dillingham looks like the wicked witch's castle anyways."
Producing Shakespeare's work includes inherent difficulties of language and meaning. Sophomore Lysie Shutrump, starring as Lady Macbeth, said Callahan took special measures to make sure the cast fully understood the play.
"She [went] through what every single word means," Shutrump said.
Sophomore Willy Landon said another important aspect was becoming comfortable not only with the play's content, but with the cast as well.
"We had a couple rehearsals where we went up and paraphrased our scenes to get the feeling down first," Landon said. "There was an equal amount of rehearsing and becoming closer as an ensemble."
"Macbeth" stands alone among on-campus theatrical productions this year as the one whose rehearsals necessitate snow pants and shovels. It also promises to push the boundaries of conventional space in ways that more traditional shows like "Ballyhoo" and "The Full Monty" cannot. One outdoor rehearsal of a murder sequence drew late-night attention from a Public Safety vehicle, temporarily breaking the scene's spell with glaring headlights, said senior Amy Cohen.
"We were all standing around in black just watching this guy get stabbed," Cohen said.
Another time, a ritual snow burial prompted a passerby to query, "Is this hazing?"
Landon said having the play move around outside heightens its meaning.
"It enhances all the emotions and situations for everyone," Landon said. "It makes it more urgent."
Callahan — whom her cast describes as "unbelievably dedicated" and "extremely well-versed in Shakespeare" — even encourages the actors to break the "fourth wall" separating audience and cast, incorporating passersby and distractions inevitable in a walking production. As the posters around campus indicate, the weather itself may play a significant role.
"It's for brave people, but it's almost cooler when it's snowing," Shutrump said. "It adds to the feel of the production."
The Shakespearean tradition continues this spring with the Main Stage production of "A Midsummer Night's Dream," but the free, student-led "Macbeth" gives theater-goers a chance to liven up that tradition.
"It's definitely not what people are used to," Callahan said.
Macbeth will be performed Saturday at 3:30 p.m. and will meet in the lobby of Dillingham. Dress for the weather.