Ithaca College senior Nate Tao belts out a solo during Ithacappella's performance at the International Championship of Collegiate A Cappella at Lincoln Center in New York in 2008. His parents watch him as he captivates the audience, but they don't hear his melodious voice.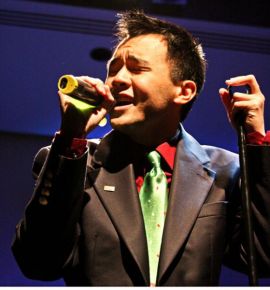 "My parents haven't directly influenced me in the way that when they hear my music they say, 'Oh, I liked that' or 'I didn't like this,'" Nate said.
Anni and Mark Tao were both left deaf after receiving a small pox vaccine in Taiwan where they were born. While neither of Nate's parents can hear, he said they have still played a major part in his music career.
"They really exposed us to a lot of hearing people in that world so we weren't stuck in one world," Nate said. "It's more like they encouraged us to really get involved early."
Nate learned American Sign Language at a young age and uses it when he's with his parents. When he's away from home, he said he's not much different than any other college student — he uses text messaging, e-mail and other electronic media to talk to his parents.
"I get asked, 'How do you feel?'" Nate said. "That's all I ever knew growing up. My parents taught me sign when I was one or two. They'd just give me objects, and I'd sign it and remember it. I don't remember learning sign language, but that's just how it happened. That's just all I've ever known."
Anni said though she is unable to hear Nate sing, she enjoys attending concerts and seeing Nate on stage.
"I learned from an interpreter who signed for us while we watched Nate's performance at his high school," Anni said. "The interpreter told me his voice was so beautiful. I saw many people stand up and applaud when he was finished. I was touched and felt so proud of him."
Learning to speak came from Nate's family interacting with hearing people.
"My parents said, 'When you guys were little, if we had to go to work, or when we'd have somebody babysit you, we'd always try to make sure that it was a hearing person, just to try to immerse you into something that we can't provide for you,'" he said.
Nate began singing after he was encouraged to try out for choir in middle school, but even before that, his grandmother pushed him and his siblings to play the piano.
"My older brother and sister both started playing the piano when I was 5 or 6, and I said, 'I want to do that too,'" he said. "I started taking lessons for about seven years; then after a while, something wasn't clicking, so I decided to stop."
Nate originally came to the college as a vocal performance major, but decided to drop the performance aspect and became a music major, allowing him to graduate a full year earlier this May.
"[Vocal performance is] very operatic, and it wasn't really my thing, so I switched," Nate said. "I'm still a music major, but just not performancewise. I decided to do that because I kind of want to get out and do music."
Nate gave up the opportunity to appear on NBC's show "The Sing Off" — an a cappella competition that aired during the fall — in order to stay in school and finish his degree.
Mark and Anni both said they were glad their son decided to stay in school.
"All parents hope that their child gets a stable job in fields such as engineering or in medicine," Mark said. "We know the music industry will be tough and that there is a long road for him, but we will always support him and encourage him to follow his dream."
While Nate missed out on "The Sing Off" in the fall, he did make appearances with Ithacappella on "American Idol" and "The Price is Right" this spring.
"Every bit counts because now there's people all over who have actually heard of us," Nate said. "More people hearing about us is really great. That's even more people who might happen to click on maybe a song that I'm singing or that I have a solo in. So, individually, it's great, but as a group for Ithacappella, it's awesome too."
Anni said when she can't make it to Nate's concerts, she likes to watch his YouTube videos and blast the music.
"I like 'Kiss From a Rose' because it is slow and I can hear it with the headphones turned up really loud," Anni said.
Nate is most recognized in Ithacappella for his solo performances of "Isn't She Lovely?" and "Kiss From a Rose." Ithacappella President and senior Matt Zeitler said Nate has developed a following from those performances.
"His brother made him a Web site, and he always is blogging on that and updating people with what he's doing," Zeitler said. "I'd definitely say he has his own following that are sort of waiting to see what comes of him and where he's going to go with his talent."
With Nate releasing his first solo album April 24, his fans will get the chance to hear his original tracks.
Nate said there have been times during his performances when he wished his parents could hear, but he said having their support is more important.
"There's kind of a lost connection because you want to tell them, 'I sang this high note' or 'I sang this solo,'" he said. "They don't really understand it because they can't hear it, so it's kind of lost in translation. But we're all happy, and we're really lucky."