Decorative chandeliers and colorful glass hang overhead as customers enter a three-story maze of architectural wonders. Inside are shelves of accent pieces, knickknacks, furniture and appliances begging to be purchased for a home in need of a certain touch.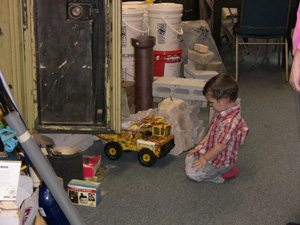 Significant Elements, a nonprofit architectural salvage store located on Center Street, opened in 1991 and houses a hodgepodge of items from doorknobs to church pews that have been scavenged from old buildings. Mitch Marano, one of the store's employees, said about 85 percent of the merchandise is donated from outside sources. Proceeds go to Historic Ithaca, the store's umbrella organization, which is responsible for preserving and restoring local landmarks like the State Theatre.
Carol James of Brooktondale, N.Y., and her husband are currently renovating their 1860s farmhouse. James said she is looking for light fixtures and shelves and came to Significant Elements on Friday for its monthly sale.
"This is a place I keep coming back to, saying, 'Will this work here? Will that work here?'" James said. "It's a good spot to do that kind of thing."
Marano, who started working at Significant Elements a year and a half ago and described his position as "general everything," said the store gets many shoppers looking for pieces to add to their renovated houses. Significant Elements' staff of three is also a source of practical home advice.
"People that are restoring things, not only can they find [what they're looking for] here, but we pretty much know how to work with a lot of it as far as redoing their plumbing and their lighting," he said.
Marano himself keeps an eye out for pieces he can use in his carpentry work.
"I've done a lot of shopping here, and I'm getting ready to do some more," Marano said. "There's a mantelpiece on the third floor that I want to turn into a bar."
The first floor has a collection of housing fixtures, bathroom tubs and sinks and smaller oddities like a wicker wheelchair and an electric calculator. Larger items and raw materials can be found on the second and third floors, including old church pews, floorboards and ceiling tins. This Saturday, items on the top two floors will be 50 percent off, bringing church pews to $30 each and wooden auditorium chairs to $50 per pair.
Marano said the first floor tends to be the most popular because people do not want to go upstairs, especially in the summer when the top floor gets "incredibly" hot. But people are missing out by not going upstairs, he said.
"There's probably old paneling from the '20s and '30s, people just don't recognize it," Marano said. "There's a lot of hand-cut trim that's up there and people are just missing it. There's nowhere to put it [on the first floor]."
Ithaca area resident Suzanne Norgang brought her parents, who were visiting from Portland, Maine, to look around Significant Elements last week. Norgang said her husband once found bathroom fixtures made of gold and silver dating back to the 1920s. Despite their high-end design, the fixtures were relatively inexpensive, a trait that attracts many people to the store.
"There were some architectural salvage places [in Maine], but they weren't nonprofit like this, so everything was expensive," Norgang said. "We think this place is neat."
Norgang's three-year-old son, Thomas, was especially fascinated by the store's collection of toilets, having begun potty training just two weeks ago.
"He comes with me a lot, but it's hard," Norgang said. "He wants to look at everything and run around everywhere, so we usually take it in very small doses."
Though Significant Elements has antiques, it also carries contemporary items people donate while renovating their homes. Reducing the store's stock of common items, such as sinks — available in a range of colors, including white, pink and blue — will take imaginative people, Marano said.
"Anybody who can come up with another idea for a sink, they're golden," he said.
Marano used a sink as a fountain in his garden and said he's had a customer attach a sink to a garden wall as a birdbath.
Significant Elements does not have a large advertising budget, so most of its popularity comes from word of mouth. The store has a steady flow of regulars but also draws customers with its weeklong sales each month and "Free Friday." On "Free Friday," usually the third Friday of the month while the weather is nice, Significant Elements lines up items along the side the building that may be taken for free.
"If we're tired of stumbling over it or cleaning it or it's been here for a long time, [it goes to 'Free Friday']," Marano said.
Items at Significant Elements are never thrown away and almost everything, including the bowls holding smaller items, is for sale.
"As long as somebody doesn't add them to the landfill they can have everything here," Marano said.
On "Free Fridays", people start lining up at 9:30 a.m. for the store's opening at 10.
"We've had people help us unload the van and they take it right out from the van into their truck," he said.
Though sales usually stop when the weather gets colder and becomes unpredictable, customers count on Significant Elements for unique renovation finds year round.
"You can take anything from the store and make it into just about anything else," Marano said.
Significant Elements is open from 10 a.m. to 5 p.m. Wednesday through Saturday and is located at 212 Center St. For more information, visit www.significantelements.org.