During hour-long blocks between classes, sophomore Rob Yaple goes back to his room in the Terraces to relax. He takes out his coffee maker, all ready with hot water, and walks over to his collection of tea. To de-stress from homework for 11 classes, podcasts for the Student Government Association and resident assistant duty, Yaple drinks three to four cups of tea each day.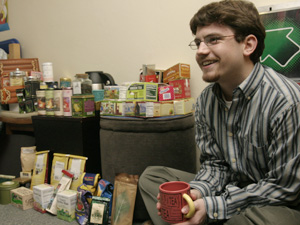 "If I make time for tea, and I'm like, 'OK, I'm going to have tea,' I can start fresh, and I can get some stuff done," he said.
Tea helps Yaple, a music education major, keep his stress level down, which can get increasingly difficult late in the semester as papers, projects and exams pile up. Still, ongoing stressors from social issues, relationship problems and academic work can plague college students at once.
Jeff Holmes, assistant professor of psychology, said people experience stress when they feel threatened, or when they're uncertain of their ability to cope with a threat to something they feel is important.
"We have attached value to doing well in school, to getting a good job, to having good relationships," Holmes said. "When those things become threatened, … it's this anxious, nervous response because you think something bad is going to happen."
LeBron Rankins, a psychologist in the Counseling Center, said stress can come from feeling stuck or when having trouble solving problems. When exam time hits, fear of not performing well can make it difficult for students to study.
"Fear keeps them from acting in ways that might help minimize what's causing their anxiety," Rankins said.
This semester, students have more time than usual to recover from Thanksgiving break and prepare for final exams. Because the academic year began a week later this year, students have three weeks before finals instead of two.
Leigh Ann Vaughn, assistant professor of psychology, said she has seen a difference in students' moods because of the extra time.
"Students don't seem like they're as stressed this time of year," she said. "But their moods will go down and their stress levels will go up as it's getting closer to exams."
Some students will thrive on the pressures of excessive work and exams. Holmes said these people have a personality trait called hardiness.
"If you're high in hardiness, you are that person … who thrives on stress, who can take on a lot of responsibilities and never seems to get overwhelmed."
Holmes said a small number of people have this personality trait, so everyone else has to find ways of coping with increasing pressure. He said most people under a high stress level will eventually start to feel the consequences: getting physically ill, developing insomnia or experiencing a decrease in appetite.
Many students drink, procrastinate or deny their stressors exist. Exercising may maintain ongoing health, but it can be a form of procrastination or denial. For example, with an upcoming paper, Holmes said exercise can burn energy and relieve stress. It won't help the paper progress, and it will often increase the stress level as the deadline approaches.
The late pressure affects people's ability to concentrate and not get frustrated, Holmes said, so advance work can be crucial.
"People work in fits and spurts," he said. "They work hard for a period of time, but if you have a paper or a project deadline tomorrow, then you can't walk away and let it gel a little bit."
Students can tackle stressful situations more efficiently by letting different parts of the brain take over. Vaughn said people should not get hung up on the impression they have to get a job, or have to get a certain grade-point average. Instead, they should think about ways to make things work, including expression through writing. Vaughn said letting out anger through words won't help, but writing out possible solutions might.
For example, Yaple uses iCal on his Mac to plan out his schedule each week. He said he prints out a schedule of classes for the week, then he adds in meetings and other obligations.
"If someone needs to meet with me I can just pull that out and I can look and see what I have," Yaple said. "I try to keep everything visually organized so I don't double book myself."
Making a list of goals can help, even if they're more socially based, as a strong social-support system will provide someone to discuss problems with. Setting aside time to catch up with an old friend or go to a movie can provide meaningful breaks in a busy schedule.
Vaughn said blocking out times for sleep can be highly beneficial.
"Sleeping on tough problems you're trying to work out may help you figure it out better than staying up and thinking about it all night," she said.
Sophomore Vanessa Sterling, a drama and music double major, said she calls her sisters and friends to relieve stress.
"It's nice to be able to hear about other people's lives without worrying about your own all day," she said.
For Yaple, managing his time and planning everything out significantly minimizes his stress. With a cup of tea in his hand, he can focus on his work.
"If I'm really stressed I'll just take an hour or something and just sit down and have some tea, and then I'll feel better," he said. "Everyone has their own thing … . Tea is my de-stresser."