At the side of a busy urban street, a young, dark-skinned Asian-American woman stands in the middle of two black men. They stand strong — their tough attitude shown in their intense gazes and threatening stares. The words are written in their hardened expressions: This photograph is completely in your face.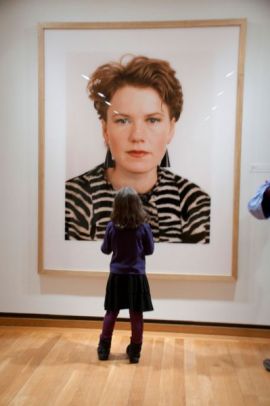 "In Your Face: Contemporary Portrait Photography," at Cornell University's Herbert F. Johnson Museum of Art, reveals the beauty and flaws of everyday people through portraits. The exhibition, made up of pieces from the museum's permanent collection, explores some of the techniques of contemporary photography to depict the subject's character in a single shot.
Nancy Green — curator of prints, drawings and photographs at the museum and curator for this collection — said for this exhibition she wanted to show pictures of people in a realistic light, exposing impromptu emotions of the subjects.
"We decided to go with images that are not necessarily glorified images of people," she said. "They basically show people, warts and all. Every person in these photographs definitely has some attitude, and that's such a reverse of [traditional photography]."
The collection is being shown in tandem with two other exhibitions at the museum that focus on photography. The inspiration for this collection came from the exhibition by Sam Jury called "Forever is Never," a six-minute video exploring the line between reality and imagination in photography. "Forever is Never" also opened at the museum Jan. 16. The theme of the collection, "The Image Wrought: Historical Photographic Approaches in the Digital Age," also influenced "In Your Face." The compilation of photographs, which re-examines historical photographic processes and their use by contemporary artists, inspired the contemporary collection of portraits.
Green said she wanted to display photographs in the exhibition that would highlight some of the differences between traditional and contemporary portrait photography.
"The earliest photographic processes were used to take portraits of people," she said. "We wanted to have that comparison of what portrait photography was with the invention of photography and what it has become today."
Ruth Rabinowitz, a professional photographer from Santa Cruz, Calif., who was visiting family in Ithaca, decided to come to the exhibition. She said what struck her most about the works was how the artists captured and saved a moment in these people's lives.
"They're historic pieces," Rabinowitz said. "People's faces change so much over the years, so it's good to document how people look [now], and as time rolls on and experiences in their life change them. It's like preserving them."
While commenting, Rabinowitz was looking at the largest image in the exhibition: a photograph of a woman by Thomas Ruff called "Pia Fries" that covers an entire wall of the museum. The subject's light green eyes gaze out, demanding an onlooker's attention. With the piece's grand size, every string of the woman's roughly textured black and white zebra-striped sweater is visible.
This image also caught the eye of Susan Dixon, a Cornell alumna. She said she was also intrigued by the large image of the woman on the wall. Like the others in the exhibition, there is an intense focus in the shot and a natural air to the image, she said.
"As someone who is not comfortable in front of the camera, I was struck by how directly [the subjects] faced the camera, which can be attributed to the photographer," she said.
Looking at the other photographs, Dixon said she was interested in a black-and-white image of two girls in prom dresses. In the photograph, a tall and voluptuous black teenager flaunts her attitude as she stands with a hand on her popped hip. Next to her, a thin white girl with a lip ring stands awkwardly upright, stunned and waiting.
Dixon said what was so interesting about this image was that it brought the medium of portrait photography to a local level by featuring some pieces that were taken in Tompkins County.
"My first impression was that it felt like they were on a museum wall, and then I saw that they were from Ithaca and that it was just two years ago," she said. "As an Ithaca resident, that really astounded me. I kept looking at it to see if I knew them."
Like the image of the two girls at prom, many of the photographs in the exhibition put different types of people together in one shot. John R. Peters-Campbell, a Cornell alumnus, said the pairing of diverse people was what most caught and kept his attention throughout the collection.
"The group photographs put together people in a way that expressed personality as relational," he said. "That was the one thing that held most of the photographs in the exhibition together — that it's not just someone on the other side of a window, but there are a bunch of people who are engaged by the photographer that you can relate to."