Chris Glover, also known as Penguin Prison, will be performing at the Cortaca Kickoff event Friday in Emerson Suites. The New York City-based artist writes, sings and plays multiple instruments to create his upbeat, electronically influenced music. Penguin Prison's self-titled album was released in 2011.
Contributing Writer Emma Rizzo talked to Glover about his music, his influences and his career as an artist.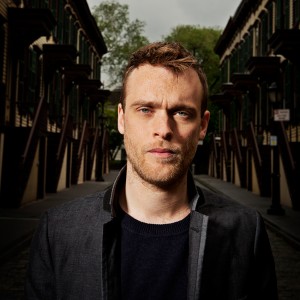 Emma Rizzo: How did you get started making music?
Chris Glover: I started singing in a gospel choir. I went to school in New York [City], where I grew up, at a professional performing arts school, which Alicia Keys was also in and in the choir with me. A lot of kids were in Broadway shows and stuff like that. We performed all over New York City.
ER: How would you describe your music style?
CG: I think Penguin Prison is kind of a combination of lots of different things. I try to make serious music but with a sense of humor. So, the lyrics are sarcastic a lot of the time but talking about serious issues. The music is made with the intention of making people have a good time.
ER:Where do you get your inspiration?
CG: I think inspiration is sort of a complex thing. A lot of the time it just comes out of nowhere. Sometimes I sleep with a tape recorder next to my bed and wake up in the middle of the night [with] a melody in my head and sing it into the tape recorder and fall back asleep. The next day I wake up and listen to it and try to turn that into a song. That's the best way to come up with something, because it just comes to you.
ER: Was there ever a defining moment when you knew you wanted to do this?
CG:I don't think there was a defining moment, because I think I knew I wanted to make music before I would even be conscious of such a defining moment. It's just always been something I've wanted to do, ever since I can remember being alive.
ER: Is there anyone that influences you?
CG: Yeah, I like lots of different kinds of music. Some of the main influences are Michael Jackson, Prince, Talking Heads, but I'm also influenced by a lot of other things, like Sala Kuti, Nat King Cole, Patsy Cline, Hank Williams and Bob Dylan. Hopefully it all blends together somehow to influence me and inform the kind of music that I create.
ER: Are you working on anything right now?
CG: Right now I'm working on a new album, and I'm collaborating with other people. I'm working on remixes and doing shows, so I'm busy.
ER: Do you have any expectations for the show at Ithaca College?
CG: I don't know seriously what to expect, but I think the students there should expect to come and have fun and dance. Just let loose and have a good time.
ER: What would you say is your biggest success?
CG: My success is just that I am doing what I like to do, and that's how I make a living. I haven't had a real job for a couple years since I've been doing "Penguin Prison."
ER: Where did the name "penguin prison" come from?
CG: It came because I made a song with my friend about George W. Bush. When he was the president, we were just making a funny joke rap song about him. We were freestyling, and we just started saying, "He's a penguin vision, he went to the penguin prison, and assumed the penguin position." We just kept saying that over and over again. We thought it was funny. And then I remembered that later when I was trying to think of a name for my band. So, I decided on that.
Doors for Cortaca Kickoff open at 7:30 p.m. The concert is free for Ithaca College students and $5 for the general public.