The Ithaca College Bureau of Concerts recently announced We Are Scientists, a New York-based indie rock band, will perform at Ithaca College on April 14.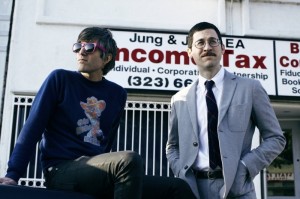 The concert will mark the first professional band brought to campus by the bureau this semester.
We Are Scientists are known for their album, "With Love and Squalor," which shot them to instant stardom selling 100,000 copies barely six months after its release. The band is also known for its album "Brain Thrust Mastery," which gave the band a spot on the U.K. album chart and two top-40 singles.
Junior Lucas Matheson, co-director of the Bureau of Concerts, said the We Are Scientists concert came together despite difficulty booking acts in the past.
"The stars were aligning for this concert," Matheson said. "When it came down to the wire, We Are Scientists just seemed perfect, and it definitely made the students happy."
Sophomore Claudia Pietrzak, also co-director of the Bureau of Concerts, said the bureau wanted to get more input from their peers regarding who they wanted to see perform at the college.
"We're in a transition period with how we are deciding to run the executive board," Pietrzak said.
The bureau sent out an online survey about what the college's students would like to see for music, which received feedback from more than 400 individuals. From the survey, the most requested genre of music was indie rock and the top nominated band was Mumford and Sons.
This semester, the organization is under the guidance of their adviser Theresa Radley, assistant director of Student Involvement at the Office of Student Engagement and Multicultural Affairs.
"B.O.C. has worked extremely hard this year to provide entertainment for the campus," Radley said. "They are an energetic group of students who are passionate about music."
Radley said it is important that the Bureau of Concerts remain considerate of the student body when planning events for the college.
"BOC wants to represent the entire campus," Radley said. "Each student on campus should be able to say that they attended a concert on campus to their genre."
We Are Scientists will perform April 14 at 9 p.m. in Emerson Suites.