Thanks to a new Web site, students can share their worst interview stories with cyberspace.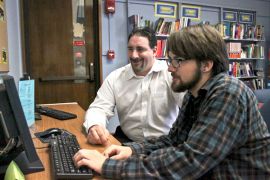 Created by the résumé building Web site www.britetab.com and public relations firm Walker Sands, www.interviewfollies.com offers students a place to submit their stories up until 5 p.m. Monday. People will then vote on the funniest stories, and the person with the most votes will win an iPod.
Sky Opila, media specialist for Walker Sands, helped design and manages the contest. Opila said the current state of the job market inspired Interview Follies.
"The job market place is extremely competitive," he said. "People are going to have to go above and beyond to get noticed."
With the stress of trying to be noticed by potential employers, Opila said that a Web site such as Interview Follies gives people an opportunity to relax and to reflect on their past experiences.
"We wanted to put something out that was different from the rest of our projects," he said. "We wanted to give people an outlet to just laugh at it."
David Rogers, BriteTab's director of product design, said everyone experiences the job interview and almost everyone has a funny story to tell about it.
"The 'interview-angle' is really powerful," he said. "We all have stories about interviews, and we wanted to see if other people have stories."
There are currently more than 50 entries on interviewfollies.com. Some of the most popular accounts include incidents of flying clumps of hair, malfunctioning blouses and drinking a few too many vodka cranberries over lunch.
Though the stories provide a few laughs, John Fracchia, associate director in the Office of Career Services, takes a different stand on the contest.
"This kind of Web site is inherently risky," he said. "Web pages that allow employers to view job seekers in a 'social-networking mode' enter a serious ethical gray area."
According to Fracchia, that gray area is even more worrisome because of the openness of the Internet. However, users can choose not to include their names to their interview stories.
"The Internet is much less private than we actually think," he said. "And in an era where employers routinely make use of Web sites such as Facebook or MySpace to search for condemning evidence, to publish testimonials describing a bad experience for all of cyberspace to view may not be the wisest choice."
Fracchia said it's normal for things to go wrong in any interview.
"Not every job interview will go according to plan," he said. "Everybody over the course of their career builds up a collection of 'war stories.'"