Crowds of students grabbed burgers and mashed potatoes at the Towers Dining Hall last Thursday, unaware that 14 floors up, another group of students was preparing gourmet pizza and pasta.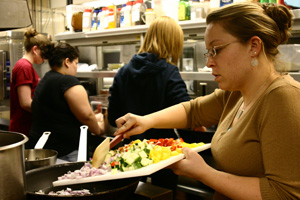 Ithaca College's Culinary Arts Club was meeting for Vegetarian Night in the kitchen of the Tower Club Restaurant, where nine of its almost 20 members were busy cooking an array of meat-free dishes. The menu included Caesar salad; vegetarian pizza with wild mushrooms and pesto; pasta with spicy sun-dried tomato cream-sauce; and butternut squash soup with cumin.
View a gallery of the preparation and presentation of the club's tasty dinner. They squeezed into the tight, stainless steel kitchen, chopping vegetables, stretching dough and joking with one another.
One member stopped preparing food to make an important announcement.
"We need to be extra hasty in our clean-up," she said. "I really want to go watch 'Grey's Anatomy.'"
The club, which has met off and on since 2001, gives students the opportunity to skip dining hall food for a night and collaborate with others to create a restaurant-quality, multicourse meal. The group meets to prepare a different type of dish every other Thursday.
The energy in the kitchen was spirited as laughter drowned out the steady sound of chopping. The area smelled of fresh basil, sautéing onions and sweet, tempting chocolate that challenged group members trying to stay faithful to their Lenten sacrifices.
Junior Andrew England, the club's president since last fall, decides which recipes the club will use. He said the executive board organizes a schedule and decides what the theme will be for each week. Past motifs have included Mexican, fondue and breakfast food nights.
Danine Dibble, manager of the Tower Club Restaurant and the club's adviser, guides students in the kitchen and helps them gather ingredients.
"We get all our ingredients from the purveyors of the dining halls," Dibble said. "I let the students decide on the recipes they want to make, and I order what they need."
Dibble has a motherly quality as she assists the students, answering their questions with confidence. She also warns club members about the hazards of the kitchen.
"I tell them that the knife is very sharp," she said.
The club gives back to the community by reaching out and working with different organizations. One upcoming event will incorporate residents of Longview, a local senior residential facility.
"We're going to have seven or eight Longview residents come up and have them cook with us," England said.
The group also sells its creations off campus for fundraising for the club. And if campus organizations were Monopoly players, the Culinary Arts Club would have a hotel on Boardwalk. It has impressive fundraising records, and much of its financial success is credited to the culinary talents its members display at major town events.
The money raised at these events is used to purchase tools and ingredients so club members don't have to spend any of their own money.
"[At AppleFest], we raised about $1,200 selling pies," England said. "We did about 60 apple pies, and had some apple cookies and apple bars. It helps us fund about half of our budget."
England said the club is planning to participate in next spring's annual Chili Cook-Off. There will also be a bake sale Wednesday in the Campus Center Lobby, where carrot cake and other spring-themed goods will be sold.
Being able to cook for free was just one of the aspects of the club that motivated junior Craig Rosenberg to join.
"I love to cook," Rosenberg said. "This was the best of both worlds. It's free, you get to come to the Tower Club, and the people are fun."
Rosenberg said he recommends joining the club because of its personal benefits. He is part of many campus organizations and said participating in the club is a relaxing way to break up his busy week.
"It's great to just take time out of the middle of the week to chill with your friends, cook up a storm, laugh, have fun and learn," he said. "In the future you have to cook for yourself."
After the food is served, the hungry chefs sit family-style around a table they have set themselves. Scattered "mmm"s are heard as everyone relishes the spoils of their collaborative efforts. Seconds are the norm.
Sophomore Sarah Santos said whatever isn't eaten at the table — which usually isn't much — is taken home by the club members.
"My roommates are excited when I come here," Santos said. "They know they'll get to eat what I take home."