While Romeo and Juliet may have wanted nothing more than to be together in harmony, some of William Shakespeare's other literary duos inspired students at Cornell University to wage a red-hot battle of the sexes on stage Friday night.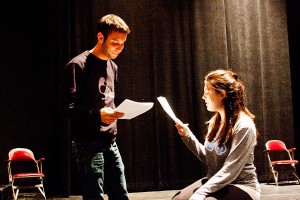 "Shakespeare: Battle of the Sexes" is a mash-up production of scenes from four Shakespeare plays, "Antony and Cleopatra," "A Midsummer Night's Dream," "Hamlet" and "Two Noble Kinsmen," that focus on the power dynamic between some of Shakespeare's leading couples. The show will be held Friday at the Schwartz Center for Performing Arts' black box theater.
Cornell University senior Anya Gibian created the piece to explore how couples wield power and authority. She said there are certain times when, being a woman in contemporary society, she feels she lacks power and wants to be someone with a more direct voice. For her, this means looking at the way gender roles are portrayed in theater.
"I have a lot of frustration at times as a woman trying to live in this society where I feel that I'm not fully accepted as a real person or as someone with agency and a voice, and someone that's worth listening to," she said.
"Shakespeare: Battle of the Sexes" focuses on Shakespearian lovers Antony and Cleopatra to analyze how high-stakes politics drives a personal relationship. Then Gibian explores Demetrius and Helena's relationship in "A Midsummer Night's Dream" to ask why Helena is so engrossed with someone who openly despises her. Later, the play delves into the dynamics of the "get thee to a nunnery" scene from "Hamlet," and the Jailer's Daughter from "Two Noble Kinsmen" who goes mad from
unrequited love.
Because the piece is a performance laboratory, the actors have only one week to rehearse. Gibian said the lack of substantial practice time will make the performance depend more on the actors and their own personal experiences with the topic.
"It's an exploration, so people shouldn't come expecting really high production value," she said. "It's a reading, but we're going to be really focusing on the acting part and really exploring deep into these scenes."
Cornell junior Jesse Turk, a theater and psychology double major, is playing Antony. He said Gibian's pursuit of the gender theme is an important path to explore because gender is a social construct and theater is a looking glass to the audience for how this construction works within society.
"[Gender dynamics] are a battle being fought in terms of what equality means, what it doesn't mean, what we decide is womanly or manly or feminine or masculine," he said. "It's something that's constantly
being discussed and re-created."
Gibian said she hopes, after watching the show, audiences will think more critically about whether what they see on stage is a representation of the status quo of society.
Turk said he is glad the show is giving Shakespeare this sort of analytical focus because theater professors will often skip over impressions of gender dynamics in class so as not to color student's interpretations of the text with their own opinions.
"Even that there are different types of endings in the verse of Shakespeare points this out," Turk  said. "One is called the masculine end, and one is called the feminine end, because a masculine end ends with more purpose and a feminine end generally ends as a question."
Cornell freshman Claire Stacks, theater and psychology double major, will play the Jailer's Daughter from "Two Noble Kinsmen." She is the only actor who doesn't directly interact with someone of the opposite gender but instead has three monologues exploring the madness of unrequited love. She said she never thought of Shakespeare as interesting until she started working with the text physically.
"I'd never really had a teacher who really made me appreciate it and love it, but it's a completely different story when you act it," she said. "You delve into the language and really learn to appreciate it."
"Shakespeare: Battle of the Sexes" will begin at 4:30 p.m. on Friday at the Schwartz Center for Performing Arts' black box theater. Admission is  $4.