From the Whalen Center to Washington, D.C., the Zephyr Quartet can be heard playing all kinds of music, ranging from modern saxophone literature to the Muppets.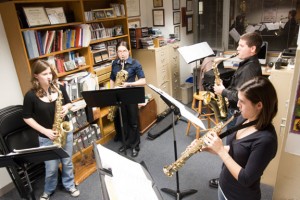 The Zephyr Quartet is an ensemble of saxophone players created three years ago by Steve Mauk, professor and acting dean for the school of music, with his freshman saxophone studio. Beginning as a for credit and mandatory ensemble, Zephyr has developed into an active group of friends that play a range of music for traditional areas like nursing homes, cafés and concerts, as well as keep an upbeat and fun set list for children's shows around Ithaca.
Zephyr has three remaining of the four original members, including Sara Emery, Erika Friedman and Rachel Kininger. All founding members are junior saxophone and music education double majors. The group has seen a one-person switch in the quartet each year. They added junior Eric Troiano last year and will finish the semester with the group. Next semester sophomore Erika St. Denis will take Troiano's place.
Mauk acted as the faculty adviser until becoming the acting dean last year and handing the quartet over to Tim Rosenberg, assistant professor of music performance.
Rosenberg said he enjoys working with the group because they build on each other's talents to improve.
"They play really well, and they really challenge each other and challenge themselves," Rosenberg said.
Though the quartet members no longer play for credit, they remain dedicated to precision in their performance with weekly coaching and four to eight hours of group practice time per week.
The Zephyr song collection includes not only tracks from "Star Wars," "Mulan," "The Muppets" and "Aladdin" but also classical and multicultural pieces. Emery said the group leans toward less well-known songs because the saxophone wasn't invented until the 1800s. Emery said the group likes to have variety in their song selection.
"We're really open to anything," Emery said. "We like playing just about anything."
The members' taste in music is as varied as the pieces they choose to perform. The group said its most prestigious and memorable experience was performing at the International Navy Symposium in Washington, D.C., in the winter of last year.
"It was just so much fun playing down at the Navy Symposium because we were playing for all of these amazing saxophone players from all over the world," Emery said.
The members of Zephyr also play as a community service. This includes playing at children's events and nursing homes. Kininger said when the group plays for children they shorten their typical works and turn the event into an educational experience.
"We play short, fast and fun songs," Kininger said. "We try not to talk too much, but we introduce instruments. It's cute because when we play they dance and come up to us."
Emery said she enjoys playing for children, as it is a nice chance to play music for a less-influenced audience, as they have a blank slate as far as musical style and taste preferences.
"The great thing about kids is that at that age they have no bias toward music," Emery said. "They don't know what's classical and what's jazz — it's all music to them."
The group has also spent time at local nursing homes, including Beachtree Care Center and Bridges Cornell Heights and enjoys visiting one of the first music professors at the college, Helene Wickstrom, at Longview. Emery said Zephyr prefers performing for the nursing home residents outside of traditional holiday seasons because not as many people spend time visiting then.
"During the holiday season there's a plethora of people going to these places because it's easy to think about, but during the middle of April they still like having visitors, but not as many people think of going," she said.
Having been together in and out of class, the three founding members have grown to know each other well. Friedman said working with the group has given her a community she hopes will continue.
"We started freshman year, and we've grown so much together," she said. "We've gotten closer, and it's something that you just want to keep doing and never want to stop."
Despite busy schedules and other commitments, the three friends have remained loyal to the quartet, a quality Emery said sets them apart from other musical ensembles at the college.
"It's just our dynamic that we are such good friends," she said. "All summer I couldn't wait to come back to school and play with these guys again."