For Maria Russell, an administrative assistant in the chemistry department, finding the motivation to change her unhealthy habits started when she realized her weight was hindering her ability to perform everyday tasks.
"I was tying up my shoes to come to work one day, [and] when I stood back up I was out of breath and my face was purple," she said. "I thought to myself, 'I have got to do something.'"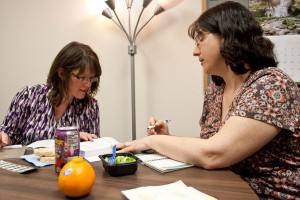 When she arrived at work that day, Russell checked her e-mail and found an invitation to join the Weight Watchers At Work program.
"I immediately hit the reply button, and I began a new long-awaited journey," she said. "If I didn't hit reply at that moment, I'd still be overweight."
Ithaca College's At Work program uses the same strategies as regular Weight Watchers programs and holds meetings once a week on campus. On April 13, the program plans to host an open house to recruit more members before the next 17-week session begins April 21.
The program assigns each food or dish  points based on the quantity of calories, fiber and fat content in it. The height and current weight of participants determines the number of points members can consume each week, which they write down daily in their journals.
Now, after more than two years with the program, Russell said she has succeeded in meeting her weight loss goal.
"I [was] successful with Weight Watchers At Work [after] losing my first 37 pounds within the first year," she said. "I've now [been] maintaining my weight for two years and six months. That is a success [for me]."
Christine Haase, administrative assistant in the philosophy and religion department, is the campus coordinator for the college's At Work program. She said what she most enjoys about the group is the convenience.
"The benefit is that we're already here," she said. "I'm at work, and I can go to a meeting on my lunch hour. It's convenient, and we're really fortunate to have it."
Currently, 57 people are enrolled in the college's At Work program. Haase said the group's recent success can be attributed to the strong sense of community on campus.
"I'm fortunate that the college supports me in my efforts to get healthier," she said. "Then in turn, I do a better job. Happy, healthy employees are productive and loyal. The support is why I love working here."
Robin Davis, assistant director of employee benefits and work life, is a longtime participant in the At Work program. She said the At Work system has provided more support than just the regular in-town Weight Watchers meetings.
"We tried for a long time to get Weight Watchers back here because it's not a fad," she said. "It's a proven system."
The college also offers the Center for Health Promotion and the Wellness Clinic to help students and staff lose weight.
Nancy Reynolds, program director for the Health Promotion Center, said college is an important time to take control of making healthy decisions.
"Health is an important topic that everyone can relate to on some level," she said. "We try to keep up on the latest information to help [others] make informed decisions about their health."
Reynolds said Wellness Wednesdays, a weekly meeting designed to bring students, faculty and staff together to learn about and discuss health promotion on a regular basis, is one of the current options offered.
"Being well-informed is key to making choices you can continue for a lifetime," Reynolds said.
The Robert R. Colbert Sr. Wellness Clinic, located in the Center for Health Sciences, is another area on campus that focuses on helping the college community stay healthy.  Clinic members, who pay a yearly fee, have access to exercise equipment, fitness evaluations and nutritional assessments.
Miranda Kaye, assistant professor of exercise and sport sciences, said she exercises in the Wellness Clinic four times a week and enjoys the benefits of working out in a social environment.
"It's really convenient since I work in the building," she said. "The biggest barrier to working out is time, so it's nice when a co-worker can just come by my office and ask if I want to go work out."
While health-centered programs are generally successful at the college, this is the third time the At Work program has been implemented. The first began in May 2001 and the second in 2005. The problem was finding a qualified leader to run the meetings. A Weight Watchers leader has to be a Lifetime member — someone who has met his or her target weight and has kept the weight off for more than six weeks.
With only one more week to go in the current 17-week session, 12 members of the current group have already met their weight-loss goals, and seven of them are now Lifetime members. To date, the current At Work group has lost 490 pounds since mid-December. As they celebrate their one-year anniversary with Samarra Mbenga, the current leader, the college community has lost 1,662 pounds.
Mbenga said the best benefit of the At Work program is how participants take the time to put themselves first, even during the workday.
"People are so stressed and busy taking care of others they forget to take care of themselves," she said. "The At Work program makes it easy for anyone to come down during a lunch break and get some inspiration."
Through her participation in the At Work program, Russell became a Lifetime Weight Watchers member and said attending the meetings on campus helped her stay focused on her goal.
"I have so much more energy now," she said. "I am happier with myself. This is a life-changing commitment to yourself."