When people think of spending spring break in Key West, they usually think of tanning, drinking and partying. Katharyn Howd Machan, professor of writing, has different plans. Every year since 1997, Machan has spent her spring break hosting a writing workshop in Key West, Fla.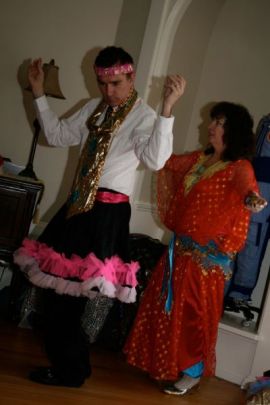 Machan started the program after she would vacation in Florida and fell in love with a miniature rainforest called Nancy Forrester's Secret Garden. Machan calls it "the last undeveloped acre in Key West" because of its tropical orchids, lime trees and colorful parrots. She named the trip "Writing in the Garden."
Machan's workshop is made up of a two-hour meeting every day for five days, to inspire people to get together and write. Anyone can sign up, and people can attend all five days for $125 or pay $30 per day. Machan said the college does not coordinate the program, so those interested are in charge of arranging transportation and a place to stay.
"If you can get yourself down there, get over that hump of the transportation, you can eat pretty cheaply, stay in a youth hostel, and it becomes affordable," Machan said.
She said people come from all over, even from Alaska, but it is mostly Key West locals who attend.
At the workshop people gather in the garden, and Machan gives a prompt each day for people to use as a starting point in their writing.
Senior writing major Laura Catapano participated in the workshop her sophomore year and has already booked her flight for this year. She said the overall experience enabled her to develop and eventually put some Key West pieces into her portfolio.
Catapano said there were international students she got to know at the hostel, and the age range of participants at the workshop allowed her to become friends with an assortment of people.
"All the people that were there really had something to offer the group, I thought, and it was nice because certain people stayed throughout the week, and you really got to understand them, like where they were coming from as writers," she said. "It was interesting to get to see different peoples' processes."
Machan is not only known for her classes, but also her belly-dancing abilities. She teaches belly-dancing classes at Longview, a residential senior community, and the Community School of Music and Arts. She performs at most of the Ithaca festivals, including Apple Fest and Ice Fest. Machan says her dancing influences her writing, as well.
"I found that belly dancing works as a topic for my writing," she said. "It makes me write happy poems, which is uncommon for me."
Catapano said Machan's writing is what influenced her to go on the trip.
"I was really inspired by her, she has a lot of energy, and she's always doing something interesting," she said.
Catapano encouraged her friend, sophomore Simone Lackey, to join her on the trip to Key West this year. Lackey said she's looking forward to spending time somewhere warm and meeting new people in the writing community.
"It'll probably help me establish some new goals for myself in my writing, I mean just have the experience of working with other writers, especially like a more diverse group than just college students," Lackey said.
Longtime friend and fellow writer Barbara Crooker co-taught the writing workshop with Machan in 2002. She compared the beautiful setting to Eden. She said the program is enjoyable because Machan is a gifted teacher who knows how to give positive support to participants.
"She's both experienced and excellent with providing encouragement to people of all ages," Crooker said.
Crooker said the Key West workshop increases writers' awareness of what's going on around them.
"It's just always rewarding to teach new students, and especially in the outdoor setting," she said. "I really believe in writing through the senses, you're just so aware of what's going on outside when you are outside."
Machan said when students in the program find out about her belly-dancing persona, they expect to see a show.
"People are more intrigued as I get older," she said. "They're like, 'Oh, you belly dance?' and I say, 'Oh me? Yeah, I belly dance!' So I always bring at least one costume with me."