In the past, Ithaca College Theatre's Main Stage seasons have included works by William Shakespeare, Mozart and Anton Chekhov. When "The Count of Monte Cristo" opens in April, senior Brett Boles will join that list.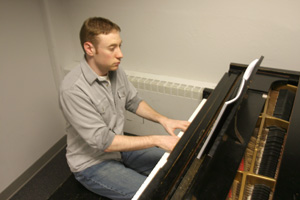 Boles began writing the musical, based on Alexandre Dumas' classic novel, five years ago. He said he is excited about watching his work be performed.
"I came in freshman year knowing that this was going to be my big project for the four years, knowing that ultimately I wanted it to be performed here in some capacity," he said.
Greg Woodward, Boles' music composition professor and mentor for the past four years, is glad to see the college take on such a project.
"It's a courageous and, I think, really great undertaking by the college to support a student here, to give the students of the theater department a chance to create brand new roles that have never been done before," Woodward said.
Once he had completed it, Boles worked to get his composition performed. In October 2005, he assembled a cast to record a demo of the show's songs. Two months later, Boles and Woodward arranged a reading to be performed in front of a committee of faculty in the Department of Theatre Arts.
The musical was eventually selected for the 2006–07 Main Stage theater season.
When asked how long he has been a fan of musical theater, Boles, a music composition major, smiles and makes the waist-high hand gesture universally understood as "yay high."
For Boles, the show will be the culmination of nearly five years of work that began when his father recommended the book to him during his senior year of high school.
"He said, 'This was my favorite book growing up. You should read this,'" Boles said. "So I read it and immediately thought, 'This would make such a great musical.'"
Since he arrived on campus, Boles' ultimate goal has been to get "The Count of Monte Cristo" performed.
To help him achieve this goal, Boles began meeting with Woodward during his freshman year. Serving as Boles' "conscience," Woodward said he lent his own composition and theater backgrounds to Boles' work.
"I was like Jiminy Cricket or something sitting on his shoulder listening and saying, 'That song didn't quite sell me, you need a better middle part and the introduction's too short.'"
Woodward met Boles when the latter applied to the School of Music's composition program. Woodward said he remembers being impressed by Boles' natural ability.
"Brett was already pretty talented when he got here," Woodward said. "He's lived a life of musical theater."
Boles acted and directed in high school, and he was a member of a summer stock theater in his home state of Connecticut.
For a month during his sophomore year, Boles wrote nearly 40 songs for a musical.
"I never actually finished it," he said. "But it was my first attempt."
He briefly considered applying to the college as a musical theater major, but later decided he liked writing better than performing.
Since coming to the college, Boles has finished two musicals. The first was a score for "Austin's Bridge," a show by Connecticut playwright Bill Davis. It will open this June in Richmond, Va. The second was "The Count of Monte Cristo."
Susannah Berryman, an associate professor in the Department of Theatre Arts, offered to direct the show.
"I'm excited by the development of new work," she said. "I hope that we can continue to have a workshopping spirit about the production."
There are always changes to make and kinks to work out. Berryman, Boles and Woodward are all aware of that. But this process is what they enjoy about theater. Woodward said the end result, a 600-page orchestral score, will be worth the effort.
"It has a chance to go off into the world and become a piece that will be repeated and played," he said. "Will it make a big Broadway house? I don't know. It could."
For now, Boles said he just enjoys seeing his work come alive.
"To have all these creative people working full time, and spending hours and hours of their energy on something I wrote — it's unreal."