Rochester's own Ying Quartet will perform in Ford Hall tonight as part of an attempt by the James J. Whalen School of Music to promote education in music.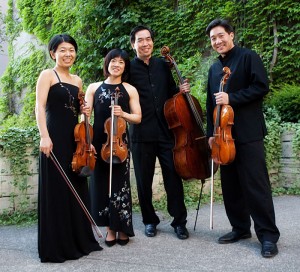 The quartet said they hope to demonstrate to students and faculty the strong emotions that can be brought forth when four musicians possess a powerful connection and are passionate about sharing that association with others through performance and teaching.
Erik Kibelsbeck, manager of concerts, facilities and educational outreach, said the music school looks for more than just established performers with recognized names when booking artists for its concert series.
"I always want to be in touch with our faculty, making sure that the artists are ones they think are good performers, but also good teachers," Kibelsbeck said.
The Ying Quartet is known for its teaching endeavors. It is the quartet-in-residence at the University of Rochester's Eastman School of Music, where the group began playing together, as well as the Blodgett Artists-in-Residence at Harvard University.
Upon returning to Ithaca College, the quartet will teach a master class on chamber music to students tomorrow evening in the Hockett Family Recital Hall. The performers will listen to student quartets play and offer their critiques. There will also be an opportunity for the class to break out by instrument and work on technical performance aspects.
Phil Ying, the quartet's violist, said he hopes that the audience will come with open minds.
"I would like the audience to come expecting to be absorbed and drawn into the music and let their minds go in many places," Ying said. "Each of the pieces we've chosen to play says a lot about music's emotion, about feeling, about sound worlds that evoke imagination. We try to make those as clear and alive as possible."
Ying said the quartet is known for its emphasis on finding the common humanity shared through the arts. He said the members of the quartet value collaboration and genre mixing, working extensively with artists such as the Billy Childs jazz sextet. The quartet not only finds these collaborations exciting but also rewarding, he said.
"Each of those brings new perspective on this whole idea of what is human about our art, how do we communicate, how do we share in that common humanity through the arts with an audience," Ying said.
The Ying Quartet was made up entirely of siblings from its formation in 1988 until 2009, when first violinist Timothy Ying, a brother of the group members, decided to retire, and Ayano Ninomiya assumed the position. Despite the lineup changes, Ying said the quartet hasn't lost the closeness that makes its music come alive.
"When you're a string quartet, it is a very close connection that you foster, musically and personally, which doesn't mean you have to be best friends outside of the quartet," Ying said. "But certainly in order to reach the kind of spiritual and musical unity, you need to perform at a very high level. You really develop that with whoever you play with."
Chamber music is by definition an intimate affair, as it was traditionally performed in smaller spaces. In a chamber music quartet, each person is expected to play in tandem with the other musicians without the added help of a conductor.
Susan Waterbury, associate professor of violin and chamber music, said a string quartet performance is elaborate, with each member's instrumentals crucial to the group's overall sound.
"Every member of a string quartet has an individual part," Waterbury said. "Even though it seems that you're hearing the melody from the first violinist, it's really an intricate kind of organism."
The quartet will perform at 8:15 p.m. The program includes Mozart's Quartet in E-flat Major, K. 428, Bartok's Quartet No. 5 and Smetana's Quartet No. 1, "From My Life," in E minor.