Hundreds of high school students descended on South Hill last weekend for a prospective student Ithaca Today event. But 180 of them weren't here to tour campus — they were in the James J. Whalen Center for Music learning an intricate gospel music show with less than 48 hours to perfect the performance.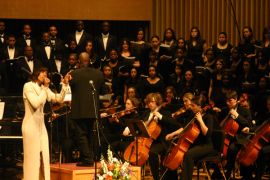 The students, mostly from the Washington, D.C., area but coming from as far as Miami, were here for the Gospel Music Invitational, an event started three years ago by Baruch Whitehead, associate professor of music education.
The weekend was designed to promote gospel music as a mainstream genre.
"It's been a dream of mine for many years to preserve the legacy of gospel music in the mainstream music settings because I think for many years it wasn't," Whitehead said. "It was looked at as something that was nice to do but really wasn't to be taken too seriously."
In addition to perpetuating gospel music, Whitehead also wanted to give black students the same big-choir opportunities other students have been experiencing for years, he said. Whitehead worked with friends and colleagues to find high schools that might be interested in coming to the college for a gospel weekend.
"It was important for African American students to be able to see other African Americans in music who are very professionally at the top of their game and are doing some incredible things with gospel music and classical music and jazz, a lot of the idioms," he said. "It's important for them to see that model, to see black professionals."
This year's concert, "Order My Steps," was dedicated to Glenn Burleigh, a musician and friend of Whitehead's who died unexpectedly this winter. Burleigh was a clinician at the college's first gospel music invitational.
The students, from eight high schools along the East Coast, arrived at the college Friday for a weekend of rehearsals and stayed in residence halls until the main performance Saturday night.
Whitehead said having the visitors stay with college students added an extra dimension to the bonding the groups experienced.
"I got an e-mail from a [college] student who said that this was her first gospel concert and she hosted a student," Whitehead said. "Basically she said her whole world changed because she was exposed to this music, exposed to these students."
Emory Andrews, choir director of Oxon Hill High School in Oxon Hill, Md., has been bringing students to the invitational since the event began. This year Andrews brought 18 students, the smallest group yet, he said.
"My school was hosted by some of Ithaca's fantastic students and [my students] really enjoyed it," he said.
Damon Gray, musical director of Duval High School in Lanham, Md., has also been involved with the invitational since the beginning and said this was the third trip for some of the 10 students he brought this year. Duval said the event offers students some valuable contacts.
"They get to meet other students from different schools, from different parts of the country, who all share the same desire, the same passion for music," he said.
Whitehead said the weekend also benefits its college participants. Many students at the college come from European musical backgrounds, he said, so performing gospel music exposes them to new challenges. The new experiences extend to audience members as well.
"It's not like a classical concert where you sit there very formally and clap at the end of each song," Whitehead said. "You may stand up and shout 'hallelujah,' wave you hands in the air, [yell] 'Sing that, girl.' It's just very open, it's very affirming."
This year's invitational opened a new avenue of participation, with groups from Miami and New York City joining the traditional students from Washington, D.C. Whitehead said La Salle High School in Miami has already committed to returning next year, and the Song of Solomon Academy in New York City took it a step further.
"We're going to have a really good connection with [Song of Solomon], and immediately we tried to make some connections here at the music school to get some auditions going and get some scholarship money going," he said.
Though Whitehead thinks the majority of participating schools will continue to come from the D.C. area, he said he expects to start getting more schools from New York City, and other schools are calling to express interest in the invitational.
Gray said he thinks the college is a better place for offering this opportunity to its own students and visiting youngsters.
"With all the educational opportunities that students have, it's always good to not only learn your craft better, but also learn how to be a better person," he said. "I think that happens with these kinds of exchanges."