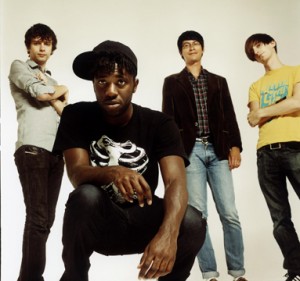 2011 has been a decisive year and we're only four months in. It appears that this will be known as the Year of the Hiatus (a new addition to the Chinese zodiac). Let's do a recap of those who have come back to the stage, decided to take a breather, or have gone to the big bandshell in the sky.
"Broken Bricks:" The year's biggest news came on February 2nd, a day that will live in infamy for rock fans everywhere. The White Stripes were no longer. The band took to their website and announced that they would no longer record music as The White Stripes. (Pause to genuflect/pray.) This came as a real surprise to Stripes followers because just months prior, Jack White said that he and ex-wife Meg were preparing to start work on a new album. I wonder what could have been. Additionally, Jack White pledged that he would not start another band as a side project (he currently fronts The Raconteurs and picks up the sticks for The Dead Weather). This doesn't rule out solo projects though….add it to the wishlist.
"Going Steady:" Death from Above 1979 is one of those bands that releases one album and then they go on to become hermits. But they did build up a large cult following with their one and only album, "You're a Woman, I'm a Machine." The dance-punk duo just recently announced their reunion after a five-year hiatus. They have already performed at SXSW in Austin, Texas and will hit the road to play some of the most prestigious festivals including Coachella, Sasquatch, Reading And Leads, Osheaga and Camp Disco's 10th Anniversary. Speculation also suggests they may be playing at Bonnaroo and the 20th Anniversary of Lollapalooza.
"Metabolism:" The Strokes strike back. It's been five years since the release of "First Impressions of Earth," but Strokes fans were at long last rewarded for their patience. The boys dropped their new album "Angles" at the end of March and the response has been generally agreeable. The band already has several festival dates lined up including Coachella and Bonnaroo and should be announcing a full world tour soon. The best part: they've already started working on the follow-up to this album.
"Time to Get Away:" Another casualty of 2011 was LCD Soundsystem. Before the release of their latest album, "This is Happening," last summer, frontman James Murphy said it would be the last album released under that name. To celebrate, the group scheduled one last blowout show at NYC's Madison Square Garden. However, due to overwhelming demand and those wonderful scalpers, some fans were left without tickets. The group answered fans' prayers and Tweets by adding four shows running up to MSG at Terminal 5. "This is Happening," I wish it wasn't.
"Heart Skipped a Beat:" Breakout Brit act The xx took the indie scene by storm last year after the release of their self-titled debut album. The group's minimalist and hypnotic tunes put their listeners in a trance and left them begging for more. Fans may have to wait a little while though. The band mentioned that they want to take their time on the next album and they have no plans to rush back into the studio.
"So Here We Are:" A few days ago, Brit rockers Bloc Party announced that they would be returning to the studio and breaking their hiatus come September. Guitarist Russell Lissack claims there are already some tracks in the works that will be put on the next record. The band teased fans back in December by posting a picture of them together in the studio with a caption wishing them happy holidays. While on break, lead singer Kele Okereke realeased a solo album based in electronica that tied the hunger over, but it'll be nice to see the gang back together.