I realized that with all the Spring and Summer '12 collections, I haven't written at all about menswear – which is completely unfair to the boys out there who've been looking for some male-centric style coverage.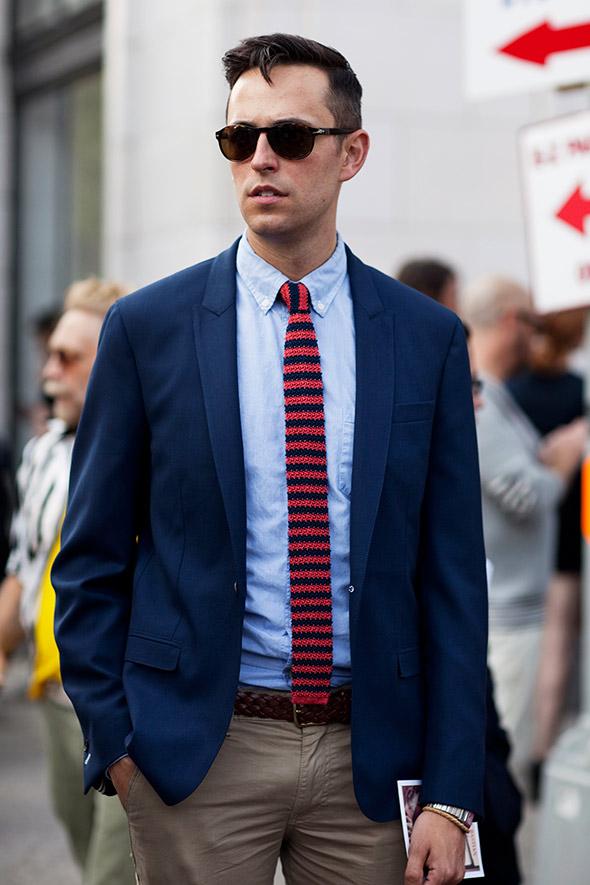 We'll get to some actual runway looks soon, but let's take a look at this awesome snapshot from The Sartorialist. I'm mostly entranced by his tie – it looks like it's knit, and I'm loving the sixties' inspired knit Missoni, anybody?  in crisp red and navy. Also, classic blue blazer and khakis are easy to wear and easy on the eyes, and when worn with the powder blue shirt, cool shades and the aforementioned awesome tie, don't look at all look like the school uniform of a smarmy prepster, which is very much the way that this outfit COULD have gone. But now for runway coverage: I give you the highlights actually, my favorite looks of menswear at NYFW and London Fashion week:
Always and forever will I love Marc Jacobs. Seriously, the man can do no wrong; the cardigan is very wearable and I must say, I'm loving the man-satchel.
But I must say that my favorite look of SS12 has been from Burberry – always a ringer for slightly rumpled, infinitely cool style: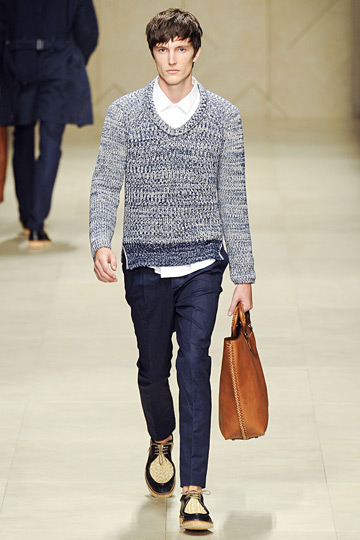 Again, I'm loving the man-satchel. And the rest of his look is so easy to achieve – slim fitting denim, a white button down, marl knit crew neck sweater and two tone lace-up loafers. This is easily something that you could pull together from what you already own in your closets except for, perhaps the man satchel. Happy dressing!